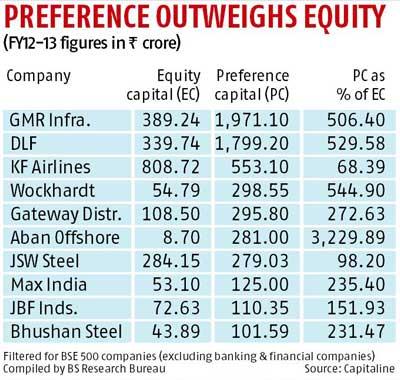 Indian companies are slowly discovering the devil in the details of the Companies Act, 2013.

Companies that have issued preference shares to a large number of investors, including private equity, are in for a big surprise as the Act gives the same voting rights to preference shareholders as to equity capital holders.

This will impact voting rights of all those companies whose preference share capital is larger than their equity capital.

While the Act is silent on whether this will be with retrospective or prospective effect, corporate lawyers say if implemented retrospectively, the clause may even lead to many promoters losing control over their companies, as and when the rule is notified.

Ketan Dalal, joint leader, tax & regulatory services, PricewaterhouseCoopers, says, "There is no clarity yet on whether this provision (of giving voting rights) will apply to existing preference shares or to preference shares now issued.

It seems totally inappropriate if applied with retrospective effect, since it would lead to critical unforeseen implications and would change the basis of the shareholder-company relationship.

"We hope there will be clarity on this issue soon."

Many members of a committee set up by the ministry of corporate affairs have dissented to the move as it will impact voting rights of equity shareholders.

Though Parliament has cleared the Act, all the rules it entails have not been notified yet.

Corporate lawyers say under the Companies Act, 1956, preference shareholders had a right to vote in two circumstances:
one, where their rights were directly affected and two, when the dividend on such preference capital was due but remained unpaid for a specified period.
The 2013 Act does not contain the second condition. "In a way, preference shareholders have a broader right to vote now on any matter where their rights get directly affected.
The investing community and India Inc have a greater reason to be concerned in this regard," says Aakash Choubey, partner, Khaitan & Co.
Many Indian companies such as infrastructure firm GMR, real estate major DLF and pharmaceutical major Wockhardt have issued far higher number of preference shares as compared to equity shares.
Preference shares are issued to raise funds from investors interested only in fixed dividend income and, in some cases of foreign investors, to avoid sector caps.
Earlier, Section 87 of the Companies Act, 1956, which gave the necessary voting rights to preference shareholders, did not apply to private companies (other than subsidiaries of public companies).
Interestingly, this section now applies to all companies.
"The import of this is very significant.
"There is considerable ambiguity where the investors who invested in preference shares and applied their rights on a 'fully converted basis' may no longer be able to rely on this provision, as the proportion of voting rights of equity and preference shareholders has to be the same as that of the equity to preference share capital," Choubey adds.
With this change, lawyers say private equity and other investors must be more cautious so that the rights they seek in management are duly covered contractually.