Retirement fund body EPFO on Monday is likely to retain 8.5 per cent interest on PF deposits for its over 5 crore (50 million) subscribers in 2013-14.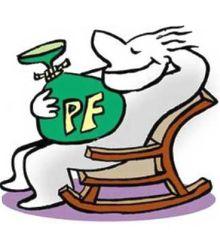 The Employees' Provident Fund Organisation's apex decision making body - Central Board of Trustees (CBT) - is scheduled to meet tomorrow to decide on the PF interest rate for this fiscal.

According to the agenda for the trustees' meet, 8.5 per cent interest will leave a small surplus of Rs 56.96 crore (Rs 569.6 million).

The EPFO, which is estimated to have an income of Rs 20,796.96 crore (Rs 207.96 billion) in the current fiscal, needs Rs 20,740 crore (Rs 207.40 billion) to pay 8.5 per cent interest to the subscribers.

EPFO had provided 8.5 per cent interest in the 2012-13 fiscal, which was higher than 8.25 announced in 2011-12.

According to estimates, hiking the interest payment by half a per cent to 9 per cent would require an additional amount of Rs 1,220 crore (Rs 12.20 billion), which does not seem feasible.

"Payment of interest to the members is expenditure for the Trust (EPFO), which is to be met out of its earnings. Thus, the rate of interest should be commensurate with the total earnings of the Trust,"
the EPFO has said in its proposal to the trustees.
The trustees are meeting tomorrow after a gap of almost one year. They will also take up a proposal to increase the minimum administrative charges for managing EPF Scheme 1952 and Employees' Deposit Linked Insurance Scheme 1976 to Rs 500 and Rs 200 per month from existing rate of Rs 5 and Rs 2, respectively.
The EPFO has proposed an increase of service charges to Rs 75 and Rs 25 per month respectively for managing EPF and EDLI schemes for non-functional establishments having no contributory members.
Besides, the CBT will also take a decision on hiring a consultant for initiating process of selection of new multiple fund managers for its huge corpus of about Rs 5 lakh crore (Rs 5 trillion).
The consultant would also evaluate the performance of new fund managers and appoint a custodian and concurrent auditor for the EPFO. At present, Crisil is providing consultancy services to the EPFO.
The body will also launch a software to monitor over 2,700 Private Provident Fund Trusts regulated by it so as to improve the delivery of services. These trusts manage around Rs 2 lakh crore (Rs 2 trillion) corpus.
These Trusts are those firms which manage their workers' PF accounts and funds themselves, and are governed by the EPF Scheme 1952, regulated by EPFO.