A day after back-to-back passage of two key reforms bills in Lok Sabha, Planning Commission Deputy Chairman Montek Singh Ahluwalia on Wednesday said that this would give positive signal to investors that there is no policy logjam in the country.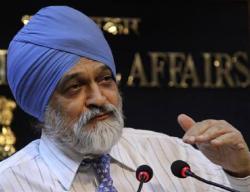 Yesterday (on Tuesday), Lok Sabha passed the Banking (Amendment) Bill and the Companies Bill sitting late in the evening.

"The fact that these important legislations have got through Lok Sabha will send a very positive signal, that fears of policy logjam ... that they are overdone ... that thing do get debated and there are difference of opinion and we do make progress," Ahluwalia said on sidelines of CII Health Summit.

While the Banking Bill would pave the way for entry of more players and investments in the sector, the Companies Bill would ensure transparent corporate governance and safeguard of the interest of small investors and employees.

"I am really very pleased. We were expecting the forward movement. I think the World was expecting to see the forward movement," he said when asked
about passage of the two key bills in Lok Sabha.
When asked whether the other key reforms bills on insurance and pension would be taken up in the forthcoming Budget Session, he said, "Sure, they will."
About the review of the government's ambitious cash transfer scheme by the Prime Minister yesterday, he informed that though the scheme would be rolled out on January 1, the actual delivery of cash would happen only in the middle of the month.
"We are starting cash transfer scheme on January 1 that does not mean that delivery on that day only. It will be effective and operational by January 15 as the money is released later on," he said.
Earlier, addressing the health sector entrepreneurs, he assured that the government would not nationalise the health sector and their interest and investments would be protected.
He said that there a lot in health sector which could be done by states as it is a state subject and Centre handles only medical education part.
Ahluwalia assured that there would be special focus on the health during the 12th Plan with larger allocation of fund and greater policy initiative.