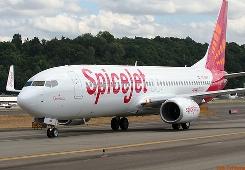 Low cost carrier SpiceJet said on Monday that more than 1.71 crore shares pledged by one of its promoter, Kal Airways, have been released.

Kal Airways, one of the two promoter entities of the carrier, held 15.65 crore (156.5 million) or 32.32 per cent stake in SpiceJet as of September quarter.

In a disclosure to the BSE, Spicejet said that over 1.71 crore (17.1 million) equity shares of the company, pledged by Kal Airways have been released.

Meanwhile, the company's shareholders last week approved proposals to raise Rs 145 crore (Rs 1.45 billion) through issue of debentures
and warrants, on preferential basis, to its promoter Kalanithi Maran.
About Rs 130 crore (Rs 1.3 billion) would be raised through issue of 14 per cent unsecured compulsorily convertible debentures.
Further, by way of allotting warrants with an option to apply for equity shares, the carrier would mop up Rs 15 crore (Rs 150 million).
In November, the board had approved issuance of convertible debenture and/or warrants convertible into up to a maximum of 52.177 million equity shares to the promoter of the company on preferential basis.
SpiceJet operates over 300 daily flights.
Shares of the company fell 1.46 per cent to close at Rs 44 on the BSE.