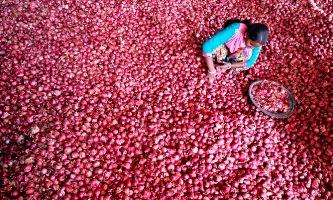 Onion exports in value terms during April-December period of 2013-14 have risen by 59 per cent to Rs 2,532 crore (Rs 25.32 billion) on account of higher export price fixed by the government.

Exports during the same period in 2012-13 fiscal stood at Rs 1,590.79 crore (Rs 15.9 billion), according to National Horticultural Research Development Foundation data.

In the entire 2012-13 discal, the country had exported onions worth Rs 2,294.90 crore (Rs 22.94 billion).

During April-December period of 2013-14, in quantity terms onion exports declined by 30 per cent to 9.87 lakh tonnes as compared with 14.04 lakh tonnes in the corresponding period of previous financial year.

India exported 18.22 lakh tonnes of onions in the entire 2012-13
fiscal.
The government imposed MEP on onion in September and then it was raised several times to curb exports and boost domestic supplies as retail prices had shot up as high as Rs 100 per kg in major parts of the country.
The country had to even import onion to control price rise.
On December 26, onion MEP, which is the benchmark price below which the commodity cannot be exported, was reduced to $150 a tonne from $350 a tonne.
Before that, MEP was reduced to $350 per tonne from $800 a tonne on December 19, while it was cut to $800 a tonne from $1,150 on December 16.
\With improved domestic supplies and fall in wholesale rates, the Centre has now reduced the MEP sharply to boost exports and stabilise the domestic prices.
Wholesale rates in Lasalgaon mandi in Nashik have risen to Rs 11.25 per kg from around Rs 10 per kg last month.