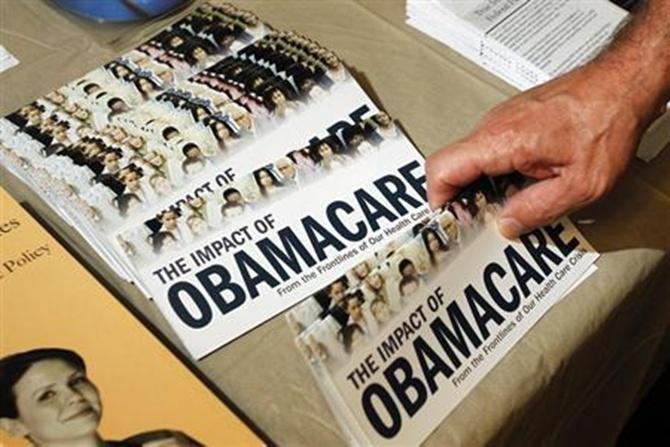 US health officials have decided to delay open enrollment in Obamacare until 2015 after President Barack Obama's signature healthcare reform plan suffered a series of technical problems, a media report said.
The programme, which had its official launch on October 1, aims to provide access to medical care for millions of Americans who often are priced out of other health care options.
But the healthcare.gov website has been beset by technical problems. Phone lines were jammed and websites overloaded, making the offerings inaccessible to many who had hoped to sign up.
Many users have experienced error messages and long waits in trying to sign on to the website, which has become a political embarrassment for Obama.
The Department of Health and Human Services now want to give insurers, consumers and engineers more time to avoid the first go-round's site crashes, coverage train wrecks and cost surprises.
It has now moved the start of next year's open enrollment from October 15 to November 15 and extended the sign-up period from roughly seven weeks to eight, an HHS official, who spoke on condition of anonymity, told CNN.
The change will not affect this coverage year, which begins January 1, 2014. The postponement "will give issuers the benefit of more time to evaluate their experiences during the 2014 plan year and allow them to take into account those who may enroll late, including young adults, before setting 2015 rates," the official said.
Known widely as "Obamacare," the Affordable Care Act was passed by Congress and signed into law in 2010, on the promise of helping 30 million uninsured people get health care coverage.
Despite its ambitions to revolutionise American health care, the plan is not free and will not be able to cover all 57 million people in America who lack full insurance coverage for health care.
Young adults are less likely than their older counterparts to take out a health insurance policy, but even without that issue, enrollment in Obamacare has been minute overall, particularly via the sign-up website.
Exact numbers are hard to pin down in the 36 states using the site. But as of November 2, just 26,794 people had enrolled in the healthCare.gov states.
The health department officials hope that the added time will encourage insurers to get coverage details right and make their plans more affordable, while consumers have more time to flush the devil out of the details.