Seeking to energise his second term, US President Obama on Tuesday said he will issue an executive order to raise the minimum wage for government contract workers to $10.10 an hour, a step which he argued would help reduce poverty in the country.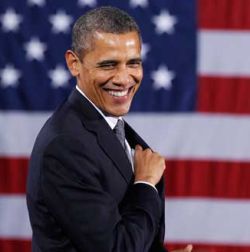 "In the coming weeks, I will issue an executive order requiring federal contractors to pay their federally-funded employees a fair wage of at least $10.10 an hour - because if you cook our troops' meals or wash their dishes, you shouldn't have to live in poverty," Obama said in his annual State of the Union Address to the Congress.

The executive order, which had been pushed by progressive Democratic lawmakers, applies to all contractors performing services for the federal government and would affect more than 2 million employees.

It will increase the minimum wage to $10.10 an hour from $7.25.

Obama vowed to sidestep Congress "whenever and wherever" necessary to narrow economic disparities between rich and poor.

Obama has made wages and economic inequality a central theme of his second term in office, raising the issue repeatedly, including during a call for an extension of emergency unemployment benefits in his first public event of 2014.

Since his executive order would be restricted to federal contractors, Obama asked the lawmakers to pass the legislation in this regard to benefit millions of people across the country.
"To every mayor, governor, and state legislator in America, I say, you don't have to wait for Congress to act; Americans will support you if you take this on. And as a chief executive, I intend to lead by example. Profitable corporations like Costco see higher wages as the smart way to boost productivity and reduce turnover. We should too," he said.

"Of course, to reach millions more, Congress needs to get on board. Today, the federal minimum wage is worth about twenty per cent less than it was when Ronald Reagan first stood here. Tom Harkin and George Miller have a bill to fix that by lifting the minimum wage to $10.10," he said.
"This will help families. It will give businesses customers with more money to spend. It doesn't involve any new bureaucratic programme. So join the rest of the country," he said.
Obama asked the Congress to "say yes and give "America a raise."

In his speech, Obama also reiterated his commitment to get equal pays for women.

"Today, women make up about half our workforce. But they still make 77 cents for every dollar a man earns. That is wrong, and in 2014, it's an embarrassment. A woman deserves equal pay for equal work. She deserves to have a baby without sacrificing her job," he said.
"This year, let's all come together - Congress, the White House, and businesses from Wall Street to Main Street - to give every woman the opportunity she deserves. Because I firmly believe when women succeed, America succeeds," Obama said.