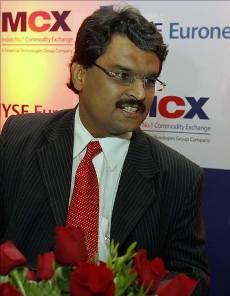 National Spot Exchange Ltd investors are planning to move court for the recovery of their investments through the attachment of the personal assets of the exchange's vice-chairman Jignesh Shah, its directors, members and their clients.

The move is gathering momentum amid expectations that the government might refer the matter to the Serious Fraud Investigation Office; the agency is likely to take 30-45 days for a report on the issue.

About Rs 5,600 crore (Rs 56 billion) of investments of some 13,000 investors are stuck in NSEL.

Despite reports from several internal committees of regulators and investigative agencies pointing to fraudulent activities, there hasn't been any substantial enforcement action against the exchange or the officials.

Therefore, the exchange's investors are now losing patience.

When the crisis broke out at the exchange, NSEL's board comprised Shankarlal Guru, Joseph Massey, B D Pawar, Shrikant Javalgekar, Anjani Sinha and R Devarajan, apart from Shah.

While Shah, along with other NSEL officials, has maintained the members defaulted on payments, several members have blamed the exchange for not delivering goods; they have also alleged the exchange owes them money.

The investors' petition is also likely to demand a court-supervised investigation of the operations of the exchange, which is said to have violated several laws.

"We will be moving a writ in the next few days. Our demands will be two-fold: First, attachment of properties of the perpetrators and second, a court-supervised investigation," said a large investor aware of the proceedings.

Though Shah has tried to distance himself from the activities of the exchange, claiming the management headed by ex-chief Anjani Sinha was responsible for its functioning, investors allege his role was direct and pivotal.

In a recent complaint to the Economic Offences Wing, NSEL investors said Jignesh Shah was the brain, trust and alter ego of NSEL, adding he was primarily responsible for the affairs and the fiasco at NSEL.

And, that he had abused his position to create a false impression in the minds of investors regarding the legitimacy of NSEL operations.

NSEL is fast becoming the subject of a plethora of litigation, some filed by it and several against it.

The Bombay High Court has already sent notices to the exchange, the government and regulators in a public interest suit filed by an organisation floated by Kirit Somaiya, a former member of Parliament from the Bharatiya Janata Party.

Some investors have moved court to halt e-series deliveries.

The exchange has filed recovery suits against some of its members such as NK Proteins and Tavishi Enterprises.

The court has declined to give any interim relief to NSEL in the matter.

In their individual capacities, investors have lodged several complaints with the local police in various cities against the exchange and its employees.
Image: Jignesh Shah ' Photograph: Rediff Archives