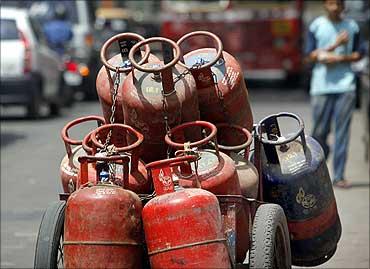 Oil Minister M Veerappa Moily on Tuesday ruled out reversal of the decision to double natural gas prices from April 1 next year and said that the notification on this will be issued shortly.

"Absolutely, there is no question of reversing the decision to hike natural gas prices, as proposed by the Rangarajan panel report, or going back on the decision," Moily told reporters.

"The notification regarding the implementation of the new price formula will be issued shortly," he said here, a day after meeting investors, bankers and analysts ahead of the forthcoming NELP round X auctions from mid-January.

The comments come amid the Supreme Court hearing a PIL filed by CPI leader Gurudas Dasgupta contending that the government decided to hike the gas prices without taking into account its disastrous consequences on the economy, particularly power and fertiliser sectors.

Moily said the rising demand for subsidies from end-user industries won't come in the way of price hike.

"We are firm that there will be only uniform pricing for gas to all industries and other end-used sector like city gas distribution companies for household use.

"It is up to the ministries and industries concerned to arrive at a subsidy formula and we have no role to play in that," Moily said when asked whether he was confident of securing the needed consensus by April when new pricing formula will be effective.

He further said that the new price will apply uniformly to all companies -- public sector and private sector, and all forms of gas -- conventional natural gas, coal-bed methane and shale gas.

On June 27, the Cabinet Committee on Economic Affairs had decided to implement a new pricing formula suggested by a panel headed by Prime Minister's economic adviser C Rangarajan.

Under this, prices will nearly double to $8 from $4.2 per million British thermal unit.


However, a day after the decision, Finance Minister P Chidambaram had hinted at allowing subsidies to power and fertiliser units to keep electricity and urea costs down.
The government claims that the proposed hike will lead to a $500 million additional revenue for the government per annum by way of royalty, taxes and profit on higher rate.
The rate increase was also necessitated as the upstream regulator Directorate General of Hydrocarbons had branded several discoveries made in deep sea as economically unviable to develop at $4.2 price.
The government is debating whether Reliance Industries, whose output from the KGD-6 wells fell to less than one-fourth from peak, should get the new prices because there is a view that the company has been under-producing gas so that it can make a windfall gain from next April.
However, recently, the Oil Ministry has proposed that RIL could charge new rates provided it furnishes bank guarantee of $135 million every quarter pending the arbitration on massive fall from its KG-D6 gasfields.
Amongst the biggest opponents of RIL getting new prices is the Finance Ministry, apart from the Oil Ministry; both are backing a plan to cap gas prices from the KG-D6 fields till the company clears past dues.
At least two dozen gas discoveries, holding reserves in excess of 4 trillion cubic feet, made by Reliance will become viable at the new price.
While RIL's KG-D6 gas price was fixed in 2007 at $ 4.205 per mmBtu for first five years of production, APM gas rates were last revised in June 2010 when prices were raised to $4.2 from $1.79.
RIL began production from its eastern offshore KG-D6 field in April 2009.
The government has been accused of letting RIL get away without supplying the promised quantity of gas from the KG-D6 blocks.
Gas output from the two main fields has declined by around 80 per cent to 10 million standard cubic metres per day, instead of rising to the planned 80 million standard cubic metres per day.