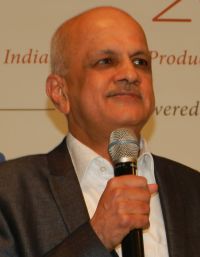 The Nasscom president R Chandrashekhar, who is on an official trip to the US, has assured investors that the next government will focus on making India an investment friendly market for IT players.
While replying to a volley of questions from entrepreneurs and investors during the day-long conference titled, 'NASSCOM InnoTrek 2014' held in California, Chandrashekhar said that the new government will have to formulate favourable policies for businessmen.
He also pointed out that if India had friendly polices, global investors would come forward to tap the Indian market..
While talking to Rediff.com on the sidelines of the conference, Chandrashekhar said that businessmen should be given incentives to directly invest in India.
(India has signed a tax treaty with Mauritius by which capital gains can only be taxed in Mauritius. Hence foreign investors who are keen to invest in India have set up subsidiaries in Mauritius and are routing investment through that country. By doing so, they avoid paying capital gains tax in India.)
Chandrashekar also applauded measures taken by the Reserve Bank of India for stepping up cyber security. He further added that e-commerce and digitisation are going to be the next big thing in India.
The NASSCOM president is accompanied by 25 young entrepreneurs who want to collaborate, connect and co-create a healthy business environment.

Here is a five point agenda prepared by Chandrashekhar for the new government to help IT companies flourish further.
*The government must introduce proper policy framework for upcoming IT firms.
*The government should encourage IT growth in tier 2 tier 3 cities.
*Rules and regulations pertaining to taxation. listing an initial public offering by companies must be simplified.
*There are several issues at the policy level which the government should fix to ensure sector growth.
*The government should promote growth and global competitiveness of the IT industry by helping them build new markets.