As Vishal Sikka takes charge, wife Vandana wants to know work-life balance during town-hall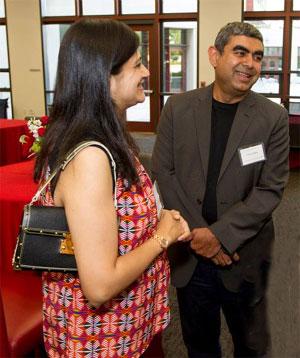 Earlier this month, employees of Infosys were surprised when a not-so-familiar 'Infoscion' asked a delicate question related to work-life balance at a town hall organised by the company to introduce the new CEO & MD Vishal Sikka.

At this point, UB Praveen Rao, the new chief operating officer stepped in and asked the person to introduce herself with a smile on his face. Pat came the reply from Sikka, revealing the identity of the person as he was perhaps the only one in the crowd who knew her well.

"She is the latest Infoscion and she is my better half," Sikka said in a lighter note much to the surprise of the audience.

She was Vandana Sikka, wife of Vishal Sikka who the latter jokingly says calls him as a 'fake Punjabi'.

Perhaps the question was aimed to get a sense of how hectic it is going to be for Sikka as he sets out on his new innings in his professional life at the Bangalore-based company.

"One thing I am not looking forward to is long plane travels," Sikka told reporters last month when the company announced his appointment.

"To a query on how does he plan to manage the company being far away from India, Sikka had said last week that he plans to be in the city at
least once a month for a week to meet employees, visit delivery centres while Pravin Rao will manage the show in his absence from operations and delivery perspective.
In fact, in his Twitter handle, Vishal Sikka, among other things introduces himself as a 'husband'.
In his latest blogpost titled 'Transitions and Anchor' he had a full paragraph dedicated for his wife.
"And then there is my wife, my V. My companion, my compass, my anchor. Her singular support, strength, dedication, selflessness and passion, have reminded me of what unquestioned support is all about, what love means and makes us do," Sikka wrote.
Among all Infosys co-founders, N R Narayana Murthy's family was quite attached with the company. Murthy often used to say how Infosys is his 'middle child' since it was born after his daughter Akshata but before son Rohan.
"He had no time for family all these years. The day he started the company, I realised I should loan him to Infosys. His dream, sleep and food, everything was Infosys," Murthy's wife Sudha Murthy had told
Business Standard
in August 2011 on the sidelines of a function held to bid farewell to Murthy.
"If you do his blood analysis, you won't find haemoglobin -- it will only be Infosys," she added.
Image: Vandana and Vishal Sikka share a light moment. Photograph: Kind courtesy, Institute for Computational & Mathematical Engineering at Stanford on Facebook.