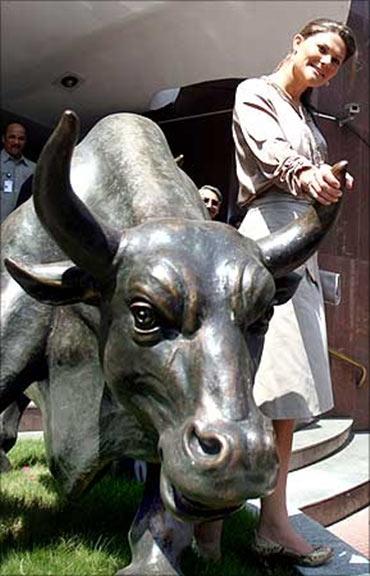 Last Friday saw epic fluctuations as the Nifty briefly crossed 7,550 before pulling back to a relatively sedate 7,200 level, as market-watchers celebrated the change in political dispensation.
As of Monday, there were net gains but option premiums are at last showing some signs of expiry effects. The trend still looks bullish but there are bursts of profit-booking above 7,250.

Trend-following technicians have a problem in terms of judgement due to that spike above 7,550, and also due to the massive fluctuations of the past month.
In theory, the all-time peak for the Nifty is 7,563 and further highs, confirming a bullish trend, will have to go beyond that point. In practice, it would probably be better to ignore that data point and assume 7,290 (intra-day high of May 19) is the high to benchmark.

On the downside, the market has managed to stay above 7,100 in the past four sessions and that could be taken as a first support.
The 200-DMA is roughly 1,000 points below the current levels and hence, useless as a trend-following indicator.

The Bharatiya Janata Party (BJP) coming in with a majority was a positive surprise and it may take a couple of sessions to be discounted by the market.
Domestic institutional investors (DIIs) were still looking to sell into a rising market, although retail and foreign institutional investors (FIIs) are both positive.
On every signal, the market looks over-bought but that is typical of a big bull market and it doesn't necessarily mean a serious correction is in the offing.

However, premiums are easing off now as settlement approaches.
The Nifty's put-call ratio (PCR) is in bearish over-bought territory with far more calls than puts.
This could mean one corrective short-term trend of maybe two to three sessions before May 29. Traders will be looking to book profits after a month where the Nifty has gained nine per cent.

The dollar-rupee has dropped to 58.45 and that trend of the strong rupee is triggering a selloff in export-oriented stocks such as information technology and pharmaceuticals.
The rupee should weaken somewhat as the oil public sector units do their end-of-month buying.
It will also be interesting to see if the Reserve Bank of India intervenes to buy dollar and force the rupee down.
The Bank Nifty has also hit new all time highs at 15,300-plus with a Friday surge to 15,750.
The financial index could be crucial to the trend of the next few days. It looks mildly bullish in the context of the settlement and a bullspread of long 15,200c (330) and short 15,500c (200) has a good risk:reward ratio and is tempting.
The Nifty range between 6,850 and 7,250 is very new territory and there has not been much trading between 6,350 and 6,850 either.
The Nifty PCR for May is at 0.95 with the PCR overall at 0.85.
The distribution of open interest across the option chains makes a move of anywhere between 6,800 and 7,600 possible.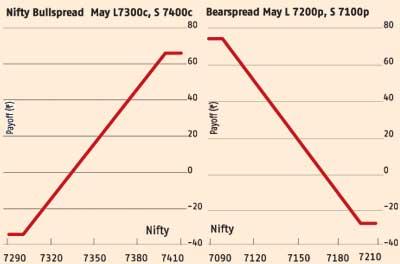 If DIIs turn net buyers while FIIs maintain their current bullish stance, the market will be forced up sharply. The opposite scenario, FIIs turning sellers while DIIs remain sellers, could still lead to correction.

A long May 7,300c (83) and short 7,400c (46) costs 37 and pays a maximum 63 with the spot Nifty traded at 7,263.
A long May 7,200p (56) and a short 7,100p (28) costs 27 and pays a maximum 73.
Both risk:reward ratios are reasonable. Combining the two near-the-money spreads offers a set of long-short strangles, which has an adverse payoff of a maximum 35 on a commitment of 65.
However, this is tempting because it could pay off to the limit in both directions if the market continues to make big intra-day moves.