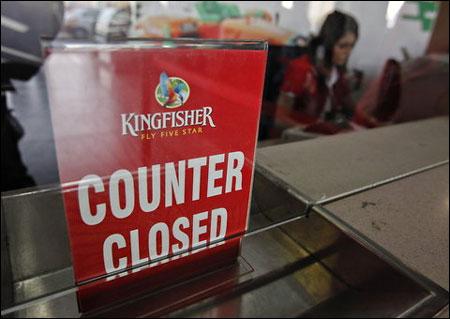 On a day when service tax department
detained
another Kingfisher plane for default, the second in two days, the airline announced it was in discussions with Abu Dhabi-based Etihad Airways for a
stake sale
which could revive the troubled airline's fortune.
Executives from Etihad Airways visited Kingfisher offices in Mumbai and Bangalore last week.
Kingfisher stock was up five per cent on Tuesday after a media report said a deal between the two would be announced next week. The report said Etihad had agreed to pick up 48 per cent in the airline for Rs 3,000 crore (Rs 30 billion).
While Etihad offered no comment for the story, its chief executive James Hogan told media last week that India and China were now key regions of focus for the airline. He said Etihad was in due diligence with a "couple" of Indian airlines. When asked about a possible deal, he replied : "Ask me in a couple of weeks.''
Kingfisher informed the Bombay Stock Exchange it was in discussions with many investors, including Etihad, but said no agreement had been signed. Kingfisher's market capitalisation is Rs 1,267 crore at current price and the UB Group owns a little over 35 per cent stake. The share price closed at Rs 15.67, up five per cent.
While the stock price got a boost, the ground situation remained the same. Agency reports said lessor International Leasing Finance Corporation, too, had taken back four Airbus planes leased to the airline. A Kingfisher spokesperson said the airline did not comment on its relationship with vendors, while sources said the airline had itself decided to return these.
"The detention of aircraft is illegal and untenable. No authority has any right whatsoever to detain Aircraft owned by overseas lessors. This will give a very wrong signal to any foreigner who wishes to do business in the aviation industry in India," said Prakash Mirpuri, vice-president, corporate communications, UB Group,
A deal will give Kingfisher Chairman Vijay Mallya much-needed funds to kickstart the airline, but the going may not be easy. Analysts are not too optimistic about Kingfisher benefitting from liberalisation of FDI norms, given its current state. More, there is competition to woo foreign airline partners.
Etihad and Jet Airways have been in discussions for a stake sale for the past few months, and on Tuesday the two airlines cemented the relationship by announcing an expansion of their existing code-share agreement to include the Abu Dhabi-Paris route.

The existing agreement covering India-Abu Dhabi routes had been signed in 2008. Second, Kingfisher's operational and financial problems are far from over.

Analysts including Kapil Kaul of Centre for Asia Pacific Aviation have said Kingfisher had an outside chance to secure foreign direct investment and any deal will be complex and require significant capital infusion by promoters and concurrence of the banks.