Ferrari's Fernando Alonso emphasised the positives on Sunday after Red Bull's Sebastian Vettel dashed the Spaniard's hopes of seizing back the lead in the Formula One championship at the Abu Dhabi Grand Prix.
-Abu Dhabi: Raikkonen shows he still knows how to win
Vettel had started from the pit lane and in last place but still managed to finish third, just behind Alonso who is now 10 points adrift of the German with two races remaining in Texas and Brazil.
-Di Resta manages 2 points for Force India at Abu Dhabi GP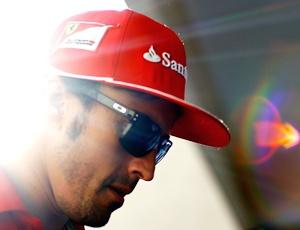 "Tonight I will go to sleep thinking the glass is half full rather than half empty," said Alonso after finishing runner-up to 2007 World champion Kimi Raikkonen's Lotus at the Yas Marina circuit.
-F1: Raikkonen wins close race in Abu Dhabi
Vettel had been sent to the back of the grid on Saturday when it was discovered that his car had too little fuel in it to satisfy post-qualifying tests.
The German would have qualified third, ahead of Alonso who was promoted from seventh to sixth on the grid with every chance of a big points haul.
"It's true that with Sebastian last there was an opportunity to reduce the gap more significantly," said Alonso.
"But it's equally true that our performance and our grid position could have seen us lose points in this grand prix. I repeat, they have the quicker car, we have the better team."
Alonso recognised Ferrari had no quick fix for their performance gap with the champions who look sure to wrap up the constructors' title in Austin in two weeks' time.
Team principal Stefano Domenicali agreed there would be a tough battle ahead.
"The important thing is we have reduced the gap in the drivers' classification in a grand prix that was particularly difficult because not only did our performance level not match that of our closest rivals but it was actually worse than that of other teams," he said.
Photograph: Vladimir Rys/Getty Images