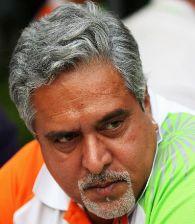 UB Group Chairman Vijay Mallya has got another problem to deal with. After razing his ancestral bungalow, housed in an expansive 4.5-acres of prime location in the central business district of Bangalore, Mallya's attempt to unlock value in the land by building the luxury KingfisherTowers has been stalled.
UB Holdings, the UB Group's primary holding company, tangled in a host of legal battles for having given corporate guarantees to lenders of the Group's now-grounded Kingfisher Airlines (KFA), has been told by the Karnataka high court to stop the sale of flats.
UB Holdings, developing the apartment complex for over two years in a 55:45 joint venture with Bangalore-based publicly-held real estate developer Prestige Estates, has said the high-value residential units in KingfisherTowers could not be sold, impacting the cash flow.

Besides, UB Holdings has been further hit as it has not been able to lease out rentable commercial office space of 30,606 sq ft, resulting in a potential loss of revenue at the adjacent UB City commercial and retail complex located on the upmarket Vital Mallya Road in Bangalore.
KingfisherTowers, touted as among the most expensive residential apartment complex in Bangalore, has an asking price of about Rs 30 crore for a flat spread over 8,200 sq ft.

With developable area of 1.09 million sq ft, it will have a total of 82 apartments, of which Mallya, along with UB Holdings, will have 40 flats.

According to information available, the apartment complex will have five entry points and Mallya will have a separate entry to his apartment, similar to that of his old house.

According to industry sources, Mallya will have a penthouse spread over an acre, - similar to the US President's White House.
Mallya, currently in London to chair board meetings of his UB Holdings and his beer company, United Breweries, is contesting almost all the cases filed against his companies, stating lenders have acted in prejudice while recovering their dues to UB Holdings and to Kingfisher Airlines.
On Thursday, UB Holdings reported a 2.7 times growth in net profit to Rs 802 crore for the first quarter of FY15, compared to the year-ago period, aided by an exceptional item of Rs 837 crore.

The exceptional item is primarily based on sale of pledged shares of United Spirits by lenders to Kingfisher Airlines. UB Holdings has said it has obtained legal advice that it has a potential claim against lenders for recovery of sale proceeds.

"Without prejudice to the rights and contentions of the company in the pending legal proceedings, sale proceeds appropriated by lenders against KFA dues is included under Loans and Advances recoverable from KFA.

Profit of Rs 528 crore (net) on sale of aforesaid shares has been included in the exceptional items," UB Holdings said in a regulatory disclosure.