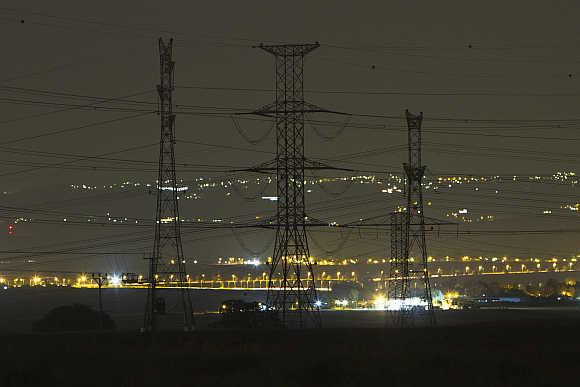 JSPL is under CBI lens for giving wrong information about its land, water supply and previous allocations to get coal block in Jan 2008.
The controversies surrounding allocation of coal blocks to Naveen Jindal-owned Jindal Steel and Power has put about Rs 80,000 crore (Rs 800 billion) investment proposals of the company in Odisha in jeopardy.
Of this, the company has already invested Rs 17,000 crore (Rs 170 billion) to build 2 million tonne steel capacity and a captive power plant at Angul.
While the five units of power station has been commissioned, the sixth unit of 135 Mw and the steel plant are almost ready. But the company is tentative on putting them on stream because of raw material crunch, relating to coal and iron ore.
"We are not able to fully utilise the units already commissioned due to coal supply issues. We are buying coal through e-auction, which is pushing up generation cost to Rs 4 per unit while the supply to the state grid is at Rs 2.75 to Rs 3.25 per unit. Under the circumstances pushing the commissioning of other units will not be viable", says a JSPL official.
JSPL is under investigation by the Central Bureau of Investigation (CBI) as the company and another accused firm -- Gagan Sponge Iron have allegedly misrepresented facts and gave wrong information about the company's land, water supply and previous allocations to get the coal block in January 2008. The agency found Jindal group's companies bought shares in Saubhagya Media at an inflated rate of Rs 100 a share when the quoted price was just Rs 28 a share, which raised its suspicion. The matter is under investigation.
Odisha officials say the coal requirement of the steel plant alone is pegged at 5.5 million tonne per annum. This apart, the company proposes to set up a Rs 60,000 crore coal-to-liquid (CTL) plant near Angul through its subsidiary, Jindal Synfuels Ltd (JSFL). The CTL complex, to come up over 4800 acres land near Angul, will include an 1100 Mw power plant and 50 million tonne per annum coal washery.
The project would have a capacity to produce 80,000 barrels of petroleum products per day. This includes 50,000-55,000 barrels of diesel, 20,000-25,000 barrels of naphtha and 4000-6000 barrels of LPG.
JSPL has been allotted two coal blocks in Odisha. The first one, Utkal B-1 with mineable reserve of 148.67 million tonne (mt) is linked to the steel project while its other block at Ramachandi in Talcher coalfield with estimated reserve of 1500 million tonne is linked to the CTL plant.
Both the blocks are shrouded in controversy following charges of illegal allotment by opposition parties and civil activists. Though unlike the company's Amarkonda Murgadangal coal block in Jharkhand, which is currently facing CBI probe, its Odisha properties are not being investigated by the Central agency, this gives little comfort to the company as allegations of impropriety has made the government extra-cautious on processing of coal block files.
For example, while the company was granted mining lease for Utkal B-1 about two years back, the state government is dilly dallying on executing the mining license after exposures on coal scam hugged the limelight.
The Coal Ministry has also stepped up the heat on the company and in June, this year issued show cause notice to JSPL for delaying the production from Utkal-B-1 coal block.
Similarly, the state government is insisting on preparation of DGPS (differential global positioning system) map for the Ramachandi block delaying the grant of prospecting licence to the company despite it agreeing to all terms and conditions.
On Utkal B-1 coal block, granted to the company in September, 2003, the Opposition and civil activists pointed fingers at chief minister Naveen Patnaik writing to then coal minister Ravi Shankar Prasad to allot the block to JSPL cancelling an earlier allotment to Talcher Mining Pvt Ltd.
Similarly, BJP MP, Dharmendra Pradhan had written to prime minister demanding cancellation of Ramchandi block allotted for CTL project citing inordinate delay in developing the block while CBI had asked Planning Commission in June for files pertaining to allocation of blocks to all CTL companies, including that of JSPL to verify if the allocations made for the coal-to-liquid projects were in any violation of any policy.
JSPL, however, is hopeful of wading through the setbacks. "We have already made investment of more than Rs.16,900 crores for setting up steel plant and captive power plant in Angul and we have already received almost all the statutory clearances for the coal block and we are ready to start mining from coal block once the ML is executed. We are hopeful that having made such large investment, allocation of coal block will not be cancelled", said Anand Goel, joint managing director, JSPL.

Part 1: Coal fire: 3 Tata Group firms under CAG spotlight