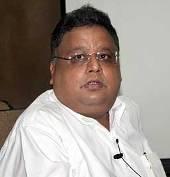 Ace investor Rakesh Jhunjhunwala's wife Rekha has acquired 60 lakh (6 million) shares in Kesoram Industries taking her shareholding in the B K Birla-promoted company to around seven per cent.

The shares were acquired through rights issue.

The company had recently offered its shareholders to buy additional shares in the ratio of 7:5 at Rs 65 apiece.

Through rights issue, a firm allows existing shareholders a right to buy additional shares in the company at a specific price.

Rekha Jhujhunwala had 15 lakh (1.5 million) shares, amounting to 3.2793 per cent stake in Kesoram Industries before the acquisition of shares, credited to her account on July 3.

Following the allotment of 60 lakh shares, Rekha owns 75 lakh (7.5 million) shares or 6.8326 per cent stake in Kesoram Industries which has interests in areas like cement, tyres and heavy chemicals among others.

Kesoram Industries' shares are listed on the BSE, National Stock Exchange and Kolkata Stock Exchange.

Company's shares were trading at Rs 68 apiece during the afternoon trade on the BSE.

As of March-end, promoters had 27.12 per cent stake in the company and state-run insurer LIC had over 10 per cent stake among others.
Image: Rakesh Jhunjhunwala; Photograph: Reuben NV/Rediff.com