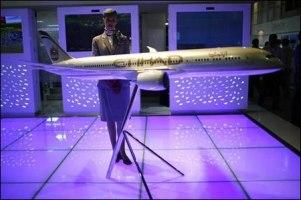 After Securities and Exchange Board of India, the Foreign Investment Promotion Board has sought more clarity on the Rs 2,058 crore (Rs 20.58 billion) Jet-Etihad deal about effective control and ownership of the premier Indian private carrier.

While the FIPB has sought more transparency on whether the rules concerning effective control would be followed once the deal fructifies, the Finance Ministry has also written to Sebi for a report on the Jet-Etihad deal, official sources said Wednesday.

According to these sources, the foreign direct investment holding, including the NRI investment by Jet Chairman Naresh Goyal, would be 88.57 per cent.

Once the deal involving the Abu Dhabi-based airline picking up 24 per cent stake in Jet at a price of Rs 2,058 crore is finalised, the Indian carrier would have a shareholding pattern with Goyal controlling 52 per cent, Etihad 24 per cent, Jet's parent company Tailwinds and other foreign investments holding 14 per cent, they said.

Keeping this in view, the FIPB has sought further details on the shareholder agreemnt on the post-deal status.

The FIPB has also sought clarity from Department of Industrial Policy and Promotion on FDI policy in aviation and whether the 49 per cent FDI sectoral cap in civil aviation includes NRI investment.

The Prime Minister's Office on July 2 came out with a statement rebutting reports about objections to the deal raised by senior Bharatiya Janata Party leader Jaswant Singh, Communist Party of India's Gurudas Dasgupta, Dinesh Trivedi (Trinamool Congress) and Janata Party chief Subramanian Swamy, each of whom had shot off separate letters to Prime Minister Manmohan Singh.

Reacting to the reports, Civil Aviation Minister Ajit Singh accused the opponents of playing politics, saying "elections are coming. "Why are they opposing the Food Security Bill? They agree with it but are still opposing it.

"They are not willing to get the Land
Acqusition Bill passed.
"They don't want to see any actions, which may improve the economy, the aviation sector or anything as they think it will adversely affect them in elections.
Singh said the Jet-Etihad deal was between two private companies.
So, "they have to go through Indian regulatory agencies, they have to get Sebi's clearance, they have to get FIPB's clearance, then it will come before the Cabinet Committee on Investments."
On the members of Parliament raising objections, he said 'basically they are long on politics and short on facts. . . I mean any foreign investment has to go through whatever Indian regulatory environment is there."
Defending the enhancement of bilateral air traffic rights between India and Abu Dhabi, the Minister said it would increase the connectivity of passengers both in domestic and and international sectors.
"Because, in their application for bilaterals Indian carriers asked for 55,000 seats and we have given them 36,000. And they will be flying from so many cities which have no flights.
"We have made so many international airports (in the country) but there are no flights," he said.
Now an Indian carrier can fly to Abu Dhabi and from there their footprints will be all over the world because for the first time in any bilateral they have allowed the change of guage," Singh said.
Change of guage, a term taken from railways, means that an airline can fly passengers in a small aircraft to one destination and then fly them beyond after shifting them to larger and long-haul aircraft.
Sources said the issues raised by the MPs have been referred to the Civil Aviation Ministry, Department Of Industrial Policy & Promotion, Department of Economic Affairs and the Corporate Affairs Ministry for "examination and appropriate action" as they were concerned with various aspects of the complaints.
The issues relating to security concerns have also been referred to the Cabinet Secretary for examination to suggest whether there was a need to look into any issues afresh.