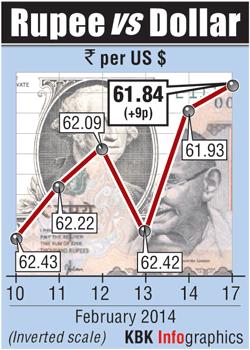 The rupee rose to a near one-month high on Monday, helped by some late dollar selling by foreign banks, even as the finance minister presented a largely in-line budget, sticking to his fiscal deficit target while doling out sops to some sectors.

P Chidambaram announced a package of indirect tax cuts to breathe life into spending and investment, and trumpeted its record of growth and reform over the past decade in its last budget before an election it looks set to lose.

The interim budget is the last major statement of intent of the current government, which faces general elections by May.

"I am not seeing any major impact of the budget since most of the numbers had been discounted. INR has been very stable and I feel next major factor would be elections," said Paresh Nayar, head of fixed income and currencies at First Rand Bank in Mumbai.

The rupee's gains on Monday were in line with other Asian currencies which posted strong gains as the dollar tanked after data showed U.S. manufacturing output unexpectedly fell in January due to cold weather.

Shares were largely unmoved by the budget proposals with the Sensex ending 0.48 pct higher.

The partially convertible rupee closed at 61.84/85 per dollar, after hitting 61.83, its strongest since January 22. It had closed at 61.925/935 on Friday.

In the offshore non-deliverable forwards, the one-month contract was at 62.15 while the three-month was at 63.01.