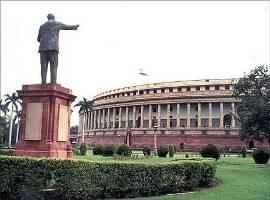 The format of the full Budget might undergo some changes when the new government tables it in Parliament.

To help compare the numbers better, the finance ministry might retain the interim Budget Estimates along with the new ones.

The printing of Budget documents starts roughly 10 days before the tabling in Parliament.

In that case, the government would have some data as on June 30, if, say, the Budget is tabled by the middle of July.

Explaning the rationale for such a move, a finance ministry official said, "Most of the numbers given in the interim Budget are at the end of January.

"By the time the new government is formed, we will have a new set of data.

We will tell them what has changed between February and June and accordingly, interim Budget Estimates might also be retained."

Also, since the government would get updated numbers for 2013-14, if the Budget is tabled sometime in mid-July, the finance ministry might give actual numbers for the year instead of Revised Estimates.

The full Budget tabled on July 6, 2009 by then-finance minister Pranab Mukherjee (now President), had not given such numbers.

The interim Budget for 2013-14 was tabled on February 17. From next week, the ministry would start internal preparations for the full Budget to be prepared by the next government.

The exercise would focus on macro economic data, existing and likely to come till the new government takes over.

"We will look at expenditure and revenue patterns. In the first week of April, we will get updated numbers.

GDP numbers for the third quarter of 2013-14 will also come by that time.

We will get a better picture of what is happening to the rupee, dollar and current account deficit, and how gold import curbs have helped," the official said.

The ministry, however, will not seek fresh proposals from other ministries and departments while finalising the Estimates.

It had already received proposals in this regard for the interim Budget and these will be used for the full Budget. The new government might do some manoeuvring within this.

The ministry will also get clarity from the new government on whether it would like to go ahead with duty exemptions announced in the interim Budget by Finance Minister P Chidambaram.

Some of the excise duty concessions in the interim Budget would automatically expire after June 30 if the new government doesn't specifically take a call on extending those.