IndiGo Airlines did not comply with the guidelines of the newly-formed Aircraft Acquisition Committee (AAC), that's why it was allowed to acquire only five Airbus 320s against its demand of 16 aircraft, said a civil aviation ministry official.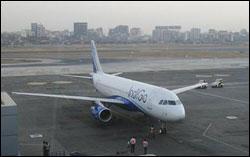 The ministry had rejected IndiGo's proposal to acquire a fleet of 16 aircraft at the first meeting of the AAC in November. It, however, gave the airline permission to acquire five aircraft as the carrier said it would lose money if it did not acquire at least five, said the official. He added IndiGo had informed the ministry it required only five aircraft for the time being.
The civil aviation ministry is to issue new route dispersal guidelines this month. "When IndiGo applies again, we will obviously consider its request," said the official.
"Please give us time to respond," was IndiGo's response to an email questionnaire sent by Business Standard. However, there no response till the time of going to press. A text message sent to Aditya Ghosh, president of IndiGo Airlines, also did not evoke any response.
According to AAC guidelines, airlines applying for the aircraft acquisition should submit certain details to the aviation ministry. These include financial details, the intended use of the aircraft to various destinations, deployment of flights according to passenger-traffic projections, and assurance of the scheduled delivery of the aircraft.
The AAC was first constituted by an executive order in 1994. In 2003, it was made an Empowered Committee. Two years later, it was given recommendatory powers in respect to acquisition of new airlines. In 2011, the power to sanction aircraft import of scheduled airlines was given to the civil aviation minister.
Earlier, AAC used to approve of aircraft acquisition for the next five or six years. However, now it gives approval only for two or three years.
In 2011, even before Ajit Singh took charge of the civil aviation ministry; the civil aviation minister was given the power to sanction aircraft import.
On November 29, 2012, Singh had told Business Standard: "I am not chairing the committee (AAC). We have decided to streamline the acquisition process, fixing timelines for the approval process and, in the process, have removed certain anomalies. I am not taking away anybody's powers. It is a committee formed by the ministry. It is not a statutory body. Even earlier, it had recommendatory powers in certain respects."
In October 2012, the civil aviation ministry said in a press release that AAC would consider, examine and recommend on all proposals for providing air transport services and for permitting import or acquisition of aircraft for various purposes. Along with this, the procedure for consideration and approval of applications had been streamlined significantly, with timelines stipulated for various stages of processing. The new addition to the committee was H S Khosla, former director-general of civil aviation.