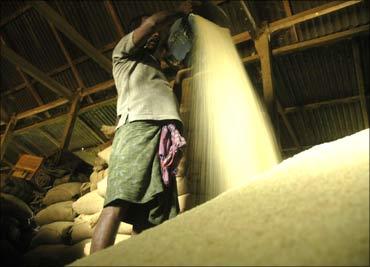 Rice exports from India, the world's largest producer and exporter, are estimated to fall marginally to 9.3 million tonnes in 2013-14 marketing year that started this month, a latest report said.

India re-entered the rice exports market in September 2011 after a four-year ban on exports of non-basmati rice.

It had emerged as the world's largest rice exporter in 2012 ahead of its Asian counterpart Thailand.

According to the US Department of Agriculture, rice exports are pegged at 9.3 million tonnes for the 2013-14 marketing year (October-September), slightly lower than 10 million tonnes in the same period last year.

The report did not give reasons for projecting a likely drop in rice shipments for this year.

However, the USDA noted that the Indian government is unlikely to impose any export restrictions in the near future with the forecast of near-record production and 'more-than-sufficient' government-held rice stocks this year.

Stating that strong exports may affect domestic price movement, the report said the government has enough rice stocks to control any significant flare up in domestic prices due to the upcoming general elections in 2014.

Assuming normal weather conditions during the harvesting period, the USDA said that the country's total rice production is projected to remain near-record 105 million tonnes, as against 104.4
million tonnes last year.
A record rice output of 105.3 million tonnes was achieved in 2011-12.
Earlier, the USDA had forecast rice output of a record 108 million tonnes this year.
It has now lowered the rice output projections considering lower planting due to deficient rains in eastern states, the major rice growing region where most of the rice is not irrigated, the report said.
Continued dryness in October in eastern India and the 'normal' cyclones in October-November period across coastal India could damage the standing crop and further temper the prospects of summer-sown rice production, it added.
USDA has pegged overall India's consumption to rise marginally to 96.70 million tonnes during 2013-14, while estimating the total grain availability at 130.5 million tonnes for the same period.