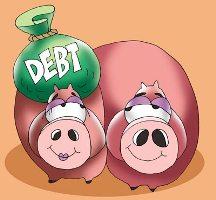 India's external debt was at $426 billion -- including the government's debt of $76.4 billion -- at the end of December.

"Government (Sovereign) external debt stood at $76.4 billion, (17.9 per cent of total external debt) at end-December 2013 as against $81.7 billion (20.2 per cent) at end-March 2013," the Finance Ministry said on Friday.

The total external debt of $426 billion showed an increase of $21.1 billion over the March-end level.

"The rise in external debt during the period was due to long-term debt particularly non-resident Indians' deposits.

A sharp increase in NRI deposits reflected the impact of fresh FCNR(B) deposits mobilised under the swap scheme during September-November 2013," it said in the latest quarterly report.

The ministry further said that the long-term debt was $333.3 billion at the end of December, showing an increase of 8.1 per cent over March, 2013 level, while short-term debt declined by 4.1 per cent to $92.7 billion.

"The share of US dollar denominated debt was the highest in external debt stock and stood at 63.6 per cent at end- December 2013, followed by debt denominated in Indian rupee (19.4 per cent), SDR (7.1 per cent), Japanese yen (5.0 per cent) and Euro (3.1 per cent),"
it added.
India's foreign exchange reserves provided 69 per cent cover to the total external debt as of December end, as against 72.1 per cent as of March-end, 2013.
The ministry said the debt has remained within manageable limits as indicated by the external debt to GDP ratio of 23.3 per cent, vis-a-vis 21.8 per cent at end-March 2013, and debt service ratio of 5.9 per cent in 2012-13.
"India's external debt has remained within manageable limits due to prudent external debt management policy of the Government of India," it said.
The policy continues to focus on monitoring long and short-term debt, raising sovereign loans on concessional terms with longer maturities, regulating external commercial borrowings through end-use, all-in-cost and maturity restrictions, and rationalising interest rates on Non-Resident Indian deposits, it added.