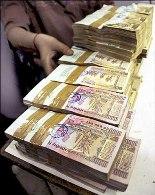 The country's external debt rose by 13 per cent to $345.8 billion in the 2011-12 fiscal on account of higher commercial borrowings and trade credit.
At the end of March 2011, the external debt stood at $305.9 billion, the Reserve Bank said in a statement on Friday.
"India's [ Images ] external debt, as at end-March 2012, was placed at $345.8 billion (20.0 per cent of GDP) recording an increase of $39.9 billion or 13.0 per cent over the end-March 2011 level.
"This was on account of significant increase in commercial borrowings, short-term trade credits, and rupee denominated Non-resident Indian deposits," it said.
It added that large recourse to borrowings, in particular to those in short-term nature, reflected widening financing needs and growing uncertainty in global financial markets as situation in euro zone continued to be fragile.
The bank said that almost all the components of the external debt recorded a rise during the year, with loans under external assistance increasing by around $3 billion during 2011-12 as compared to $8.7 billion in the previous year.
During the fiscal, the government's external borrowing stood at $81.9 billion against $78.1 billion as at end-March 2011.
"The share of government's external debt in the total external debt at 23.7 per cent at end-March, 2012 was lower than that of 25.5 per cent as at end-March, 2011," it said.
India's external debt mainly comprises major international currencies such as US dollar, Japanese yen, euro, pound sterling, special drawing rights (SDR) and the domestic currency rupee.
The dollar denominated debt continues to be the largest, with a share of 55 per cent in the total external debt as at end-March 2012, the data said.