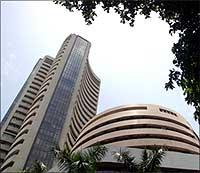 A dramatic fall in global commodity prices and reasonable valuations are likely to rescue Indian shares, battered by hefty rate increases, from a major downside.

The Reuters-Jefferies CRB index tracks 19 major commodities, including crude oil, gold, silver, copper and aluminum.

It ended last week with a nine per cent drop, its biggest weekly decline since December 2008.

Prices of crude oil tumbled by a little over $16 a barrel last week, while those of base metals like copper came off 5.4 per cent.

This sharp correction in crude and commodity prices will reduce the pressure on the Reserve Bank of India, which raised its key interest rates by 50 basis points, to tackle inflation of near nine per cent.

India imports 70 per cent of its crude oil requirement.

A reduction in crude prices lowers the government's subsidy burden and eases inflationary pressure.

"A dollar index rally or a slowdown in developed market growth will likely trigger a correction in global commodity and energy quotes, the key source of inflation pressure in India," said Ridham Desai, managing director and head of India research at Morgan Stanley, in a note to clients.

The US Dollar Index, or DXY, is a futures index which represents the relationship between the dollar and six major currencies.

A rise in the dollar makes dollar-denominated commodities expensive for other currency holders and lowers demand.

Given the macro scenario, Desai believes, the 50-stock Nifty is likely to remain in the range of 5,300 to 6,300.

The benchmark index of the National Stock Exchange, which closed at 5,551.45 on Friday, has lost about five per cent in the past two weeks.

In the short term, market experts believe the Nifty is likely to consolidate in a range of 5,400 to 5,700.

The
present valuations of Indian shares are reasonable and reduce risk of a major downside, they say.
"At current valuation of around 15 times, the markets are at a reasonable valuation. My guess is that from here onwards, markets can give a return of over 10 per cent over the next one year, taking into consideration a 15 per cent growth in corporate earnings," said N Sethuram, chief investment officer at Daiwa Mutual Fund.
There are others who believe that a five to 10 per cent correction in the Sensex from its present levels of 18,518 will be a good opportunity to buy for investors.
"If the market falls another five per cent from here on, that will be a good opportunity to buy," said Sampath Reddy, chief investment officer -- equity, Bajaj Allianz Life Insurance.
Reddy, who manages equity assets worth Rs 28,000 crore (Rs 280 billion), expects 10-15 per cent upside for the Sensex by year-end.
Vijay Gaba, equity strategist at Bank of America Merrill Lynch, feels the correction that began in April-end may likely extend further and provide a good buying opportunity for traders as well as investors.
"We have been arguing since the beginning of this year that around the 18,000 Sensex level, the market would likely price in the economic and earnings concern and any substantial correction below this level would provide sufficient cushion for any shock event," he said in a note to clients.