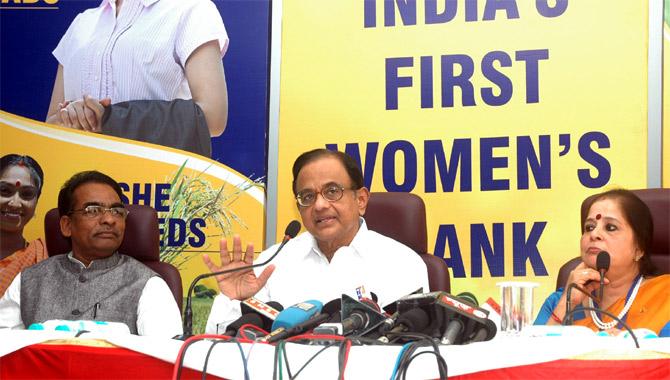 Welcoming the launch of the Bharatiya Mahila Bank, India Inc on Wednesday said the initiative will propel women's financial inclusion, encourage female entrepreneurs and empower women in the country.
"The bank would provide women better access to financial services and hence encourage female entrepreneurship, promote equity in asset ownership and ensure greater participation of women in the economic activity," CII Director General Chandrajit Banerjee said.
The first all-women Bharatiya Mahila Bank, a pioneering initiative to empower women, was launched on Tuesday with a corpus of Rs 1,000 crore (Rs 10 billion).
It will be a universal bank, but will primarily serve women, taking care of their special needs and requirements.
"The opening of the Bharatiya Mahila Bank is the best way to ensure financial inclusion and the initiative would bring a new vibrancy among women entrepreneurs in the country," Yes
Bank MD & CEO and Assocham President Rana Kapoor said.
"Setting up of an all-women bank will provide financial services and credit to millions of women, especially the self-help groups (SHGs). Access to easy credit for women in rural India will play an important role in skill-building, increasing women entrepreneurship and economically empowering our women," Ficci President elect Sidharth Birla said.
The bank, headquartered in New Delhi, began operations with seven branches and as many automated teller machines. It has targeted setting up 25 branches and 100 ATMs by March. The bank begins operations with seven branches.
Only 26 per cent women in India have a bank account and credit issued to women accounts for only 7.3 per cent of the total credit in the Indian financial system. Many times due to lack of ownership of collaterals, women entrepreneurs are unable to access bank credit, Ficci said.
The Board of the Mahila Bank was constituted with the induction of eight women members. This will be the first all-woman board of a PSU bank.