Public-sector lender IDBI Bank has said it is planning to announce liquor baron Vijay Mallya's Kingfisher Airlines as a wilful defaulter.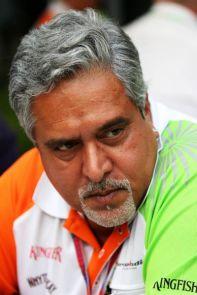 The bank, which has a Rs 750-crore (Rs 7.5 bilion) exposure to the grounded airline, also clarified it had not been questioned by the Central Bureau of Investigation, though the agency had sought some information from it.
IDBI Bank is the second bank that could list Kingfisher Airlines as a wilful defaulter. Kolkata-based United Bank of India has served a notice on the airline asking why it should not be named a wilful defaulter.
Kingfisher Airlines has moved court against the notice. State-owned United Bank of India has a Rs 400-crore (Rs 4 billion) exposure to the airline.
The Reserve Bank of India defines wilful default as a situation where an entity does not pay lenders even though it has the capacity to do so, or when it does not use funds for the purpose a loan was given.
If a borrower uses short-term working capital for long-term purposes, not in conformity with the terms of a loan, or deploys the funds for creation of assets other than those for which the loan was sanctioned, it is construed as diversion of funds.
IDBI Bank Chairman & Managing Director M S Raghavan said the bankers' consortium was taking steps against Kingfisher Airlines.
"We will declare (Kingfisher Airlines as a wilful defaulter) very, very soon. We have already taken it (the proposal) to the (bank's) board," he said and clarified IDBI Bank's exposure to the airline was Rs 750 crore (Rs 7.5 billion), and not Rs 950 crore (Rs 9.5 billion) as reported in media reports.
IDBI Bank was the first bank to declare Kingfisher Airlines' default and it went to court to recall its loan. The bank is now taking the next step to recover its dues.
State Bank of India leads a consortium of 17 banks that had a total exposure of Rs 6,500 crore (Rs 65 billion) to the airline. After banks started their recovery process last year, the total dues are now about Rs 4,000 crore (Rs 40 billion), according to finance ministry data.
In 2009, IDBI Bank sanctioned a loan of Rs 200 crore (Rs 2 billion) to Kingfisher Airlines. Subsequently, State Bank of India came out with an assessment saying the gap in the airline's working capital was around Rs 2,000 crore (Rs 20 billion) and many banks were approached, including IDBI Bank, which was asked to lend over Rs 1,000 crore (Rs 10 billion).
"But we sanctioned only Rs 750 crore (Rs 7.5 billion) and of this Rs 250 crore (Rs 2.5 billion) was sub-tuned with the earlier sanctioned amount," Raghavan said.
Responding to recent media reports that claimed CBI had questioned IDBI Bank in the Kingfisher Airlines case, Raghavan said the agency wanted to see whether funds were diverted by the airline.
If there is diversion it will show up in the airline's bank accounts, so all lenders were asked to provide information. IDBI Bank provided the information and CBI wanted more data, which was provided last Monday.
On the course of action against the airline, Raghavan said RBI Governor Raghuraman Rajan had recently stressed on tightening the bankruptcy law.
"So, we can declare the company insolvent. I am not suggesting this is what we will do. We have an option and the bank can go to any extent," he added.
The bank also said it was looking at mobilising funds through various modes, including selling its stake, partially or fully, in the National Stock Exchange, rating agency CARE and others.
"As promoters, we have good stakes in most of these organisations. In NSE and CARE alone, if we divest now, we can easily mobilise Rs 1,000-1,200 crore (Rs 10 - 12 billion)," said Raghavan.
Raghavan said the bank would need around Rs 6,000 crore (Rs 60 billion) of capital over the next two years. It had set a target of around 20 per cent growth annually and about Rs 6,000 crore of capital, besides another Rs 4,000 crore (Rs 40 billion) of Tier-I capital, would be required to support that.
"We have approached the government for capital infusion, this is the first choice. My assumption is we will get at least Rs 1,000 crore (Rs 10 billion) from the government."
At present, the central government holds a 76.5 per cent in IDBI Bank. "We have written to the government to lower its stake to 58 per cent or 51 per cent," said Raghavan, adding around Rs 4,500 crore (Rs 45 billion) could be mobilised if the stake was brought down to 58 per cent, and Rs 5,500 crore (Rs 55 billion) if it came down to 51 per cent.