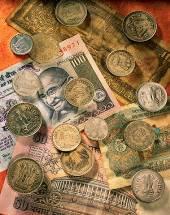 The rupee depreciated by 14 paise to close at 61.93 against the dollar today, partially erasing early losses after government data showed India's trade deficit narrowed to a 30-month low.

The rupee came under pressure on demand from importers as the dollar strengthened overseas.

The rupee opened lower at 62.07 a dollar from the previous close of 61.79 and moved in a range of 61.72 and 62.30.

It ended 61.93, a fall of 14 paise or 0.23 per cent.

The government said exports grew 11.15 per cent in September and imports declined 18.1 per cent amid a sharp fall in inward shipments of gold and silver, taking the trade deficit to the lowest level in 30 months.

The trade data also helped local stocks to recover from initial losses.

"Negative stock markets and weak Asian currencies made the rupee open on a weaker note against the US dollar.

"But then the better-than-expected
trade deficit data helped the rupee," said Abhishek Goenka, CEO of India Forex Advisors.
The 30-share Sensex gained 265.65 points or 1.33 per cent.
Foreign institutional investors bought a net Rs 226.32 crore of shares yesterday, as per provisional data with the stock exchanges.
The dollar index was up by 0.5 per cent against a basket of six major global currencies.
The rupee has recovered from an all-time low of 68.85 against the dollar in late August after liquidity-tightening steps by the government to curb exchange rate volatility and restrictions on gold imports to reduce dollar outflows.
"India's trade deficit narrowed to a two-and-a-half-year low in September, raising hopes for a significant reduction in the country's gaping current account deficit, which helped the rupee to recover some of its early losses," said Pramit Brahmbhatt, CEO of Alpari Financial Services (India).
"The trading range for the spot USD-INR pair is expected to be within 61.00 to 62.50."