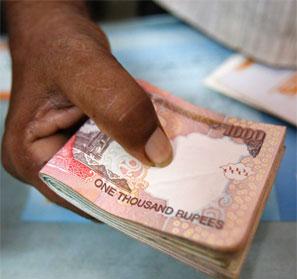 The rupee gained 37 paise to 62.50 against the dollar on Monday after global crude oil prices dropped following a deal to restrict Iran's nuclear programme.
Lower oil prices would reduce the import bill for the country, which buys about 80 per cent of its crude requirements from overseas, and help to narrow the current account deficit.
In a deal with the US and other world powers, Iran agreed to limit its nuclear programme to get partial relief from sanctions. Oil prices fell on expectations curbs on Iran's crude exports would eventually be lifted.
At the interbank foreign exchange market, the rupee opened strong at 62.67 a dollar from the previous close of 62.87 and moved in a range of 62.44 to 62.70 before ending at 62.50, a rise of 37 paise or 0.59 per cent.
The benchmark 30-share Sensex snapped a three-day losing streak and closed 387.69 points or 1.92 per cent higher after sentiment was boosted by the fall in crude oil prices.
On Friday, the Reserve Bank of India said banks have time until December 31 to deliver loans from international or multilateral financial institutions provided they were sanctioned on or before November 31, the last day of a special swap window for overseas foreign currency borrowings.
"Rupee closed strong for the day against the dollar, taking cues from local equities which finished positive after news of the key deal between world powers and Iran on its controversial nuclear programme," said Pramit Brahmbhatt, CEO of Alpari Financial Services (India). "RBI has extended the special forex swap window till December 31st, which will further help the rupee to trade strong."

India's crude oil imports in 2012-13 were to the tune of $144 billion and exerted pressure on the current account deficit. The RBI on November 13 said the deficit this year will be $56 billion, less than 3 per cent of GDP and $32 billion less than last year. Forward dollar premiums remained weak on continued receipts by exporters.
The benchmark six-month forward dollar premium payable in April dropped to 233-1/2-235-1/2 paise from Friday's close of 239-241 paise and far-forward contracts maturing in October tumbled to 475-477 paise from 485-487 paise.
The RBI fixed the reference rate for the dollar at 62.5770 and for the euro at 84.7000.
The rupee recovered to 101.20 against the pound from 101.82 previously. It rebounded to 84.47 per euro from 84.98 and remained firm at 61.43 per 100 Japanese yen from 62.12.