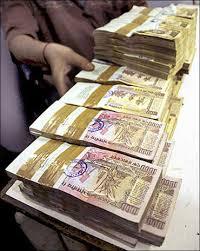 The rupee dipped slightly on Thursday as dollar buying by state-run banks and the rise in global oil prices kept the local currency under pressure.

Dealers say the Indian unit will continue to trade in a narrow range in the immediate future.

Improving sentiment for Asian currencies on the back of healthy economic growth data from China on Wednesday is expected to be offset by importers buying the dollar on expectations that the greenback would not fall any substantially from these levels.

State-run
banks are also mopping up dollars for oil and defence related payments.
"Volumes have been low and sentiment, dull. The dollar rupee pair will remain in a narrow range for the rest of this week," said a dealer at a state-run bank.
The partially convertible rupee ended at 60.18/19 per dollar, from its Wednesday closing of 60.12/13.
Local shares rose for a third straight session on Thursday as lenders extended gains.
The 50-share Nifty rose 0.2 per cent.
In the offshore non-deliverable forwards, the one-month contract was at 60.35/40, while the three-month was at 60.82/92.