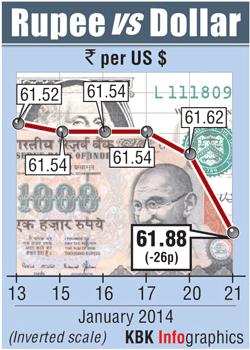 The rupee fell to a near two-week low on Tuesday, giving up early gains, on sustained dollar demand from a large state-run bank, which dealers speculated was likely to meet the government's defence purchase needs.

The large bout of dollar requirement erased early gains in the currency, which had opened on a positive note as the non-deliverable forwards markets signalled gains for the rupee.

The rupee was largely rangebound for most of the trading day in the absence of any major cues ahead of the Reserve Bank of India's rate-setting meeting next week.

With the markets veering around to the view that the Reserve Bank of India will hold its firepower and prefer to wait for further data, rupee dealers will closely watch for equity market cues.

"The rupee was largely pulled down by defence-related dollar bids by a large state-run
bank.
"I expect the currency to remain in a range in the run-up to the policy," said Navin Raghuvanshi, vice president at DCB Bank.
The currency has largely been stable in the new year, but has failed to show appreciation in spite of the pretty strong inflows in the debt markets totaling over $3 billion.
HSBC says that the rupee's rather tame show has been unwarranted given its high yielding status.
"But while they (INR and IDR) have not depreciated aggressively, the lack of a positive follow through so far this quarter is a concern, especially since some other EM current account deficit currencies are struggling," HSBC said in a note.
The partially convertible rupee closed at 61.88/89 per dollar compared with its Monday close of 61.62/63. It fell 0.4 percent, its biggest daily fall since January 2.
In the offshore non-deliverable forwards, the one-month contract was at 62.17 while the three-month was at 62.98.