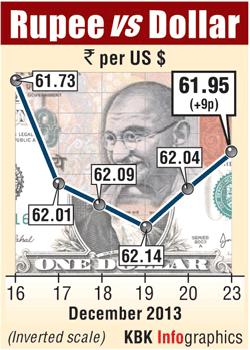 The rupee strengthened on Monday to its highest level in nearly a week, boosted by the Reserve Bank of India chief's comment on reluctance to "overtighten" monetary policy after leaving interest rates unchanged in a surprise move last week.

Governor Raghuram Rajan said the central bank had tilted towards keeping rates on hold even before November consumer and wholesale price inflation data were released.

In an interview to television channel ET Now, he said when growth is weak, we have to be careful of "over-tightening".

"The governor's comments helped the rupee a bit. At least the market now thinks that the central bank will consider growth as well when framing monetary policy," said Hari Chandramgethen, head of foreign exchange trading at South Indian Bank.

"I expect some support for the dollar/rupee around 61.65 levels with the pair broadly holding in a 61.60 to 62.40 range until the year-end."

The partially convertible rupee closed at 61.9525/9625 per dollar compared with 62.04/05
on Friday.
The rupee rose to as high as 61.8350 after Rajan's comments, its highest level since December 18.
Traders said gains in the domestic share market throughout the day also boosted sentiment for the rupee.
Indian shares edged higher as blue chips gained on continued foreign inflows despite last week's decision by the US Federal Reserve to start reducing its bond purchases, although a fall in Infosys Ltd capped broader gains.
Dealers will continue to monitor movements in other Asian currencies and the euro for near-term direction in the absence of any major domestic factors, with volumes also lower on account of year-end holidays globally.
In the offshore non-deliverable forwards, the one-month contract was at 62.42, while the three-month was at 63.23.