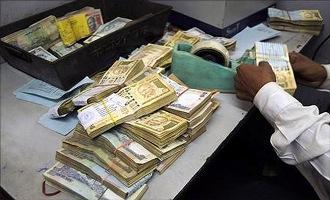 The Indian rupee posted its biggest fall in half a year on Friday, as the rally in the dollar in global markets spurred banks to buy the greenback for their corporate clients, prompting mild intervention from the central bank.

The partially convertible rupee almost breached the 60.19 level, last seen on April 23, tracking broader falls in Asian currencies.

Whether the dollar sustains those gains depends on US monthly jobs data due later in the day.

Strong US employment data would strengthen the case for an early interest rate hike by the Federal Reserve and could benefit the greenback at the expense of emerging currencies such as the rupee.

"The market was in a complacent mode with elevated asset prices and this is just a correction of the same," said Samir Lodha, managing director at QuantArtMarket Solutions, a currency advisory firm in Mumbai.

"If the US employment data turns out strong, we will see
further correction in the rupee, which will then look for RBI support," he added.
Traders cited suspicions of modest dollar sales by state-run banks, as a part of the Reserve Bank of India's efforts to support the rupee.
The rupee ended at 61.18/19 per dollar against Thursday close of 60.55/56.
The local currency fell 1.02 percent on the day, its biggest fall since Jan. 24, during a period when emerging markets were gripped by risk aversion over China's economy.
For the week, the rupee fell 1.8 percent, its biggest weekly fall since late August.
Weakness in shares also dampened sentiment, with the 50-share NSE index falling 1.5 percent tracking weaker global markets.
Little impact was seen from a private survey on Friday showing factory activity expanded at its fastest pace in 17 months in July and data late on Thursday showing annual infrastructure sector growth hit a nine-month high in June.
In the offshore non-deliverable forwards, the one-month was at 61.50/60, while the three-month was at 62.13/23.