The Sensex ended below 17,500 on Wednesday amid profit taking in index heavyweights after sharp gains on Wednesday that saw the benchmark index ending at a 4-month closing high. Weakness in Europe also dampened sentiment.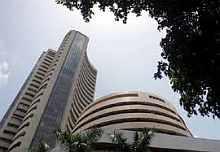 The 30-share Sensex ended down 129 points at 17,489 and the 50-share Nifty ended down 42 points at 5,303.

European shares were trading lower on Wednesday on worries that the sluggish global economy may hurt earnings. The CAC-40, DAX and the FTSE-100 were down 0.3 per cent-0.5 per cent each.

Asian shares were trading mixed. Japan's Nikkei share average eased to a two-week low on Wednesday, crucially holding just above its 25-day moving average, with profit warnings from U.S. firms viewed as a bad omen ahead of Japan's upcoming earning season.

The Nikkei ended down 0.1 per cent while the Hang Seng, Shanghai Composite and Straits Times ended up 0.1 per cent-0.8 per cent each.

Among the sectoral indices on the BSE, Auto, Realty, FMCG, Metals, Oil and Gas were the top losers down over 1 per cent each.

Auto shares witnessed profit taking after recent gains following encouraging sales growth of 8.3 per cent in June compared to the same month last year. Tata Motors [ Get Quote ] was the top loser down 2.2 per cent. Other losers include, Maruti Suzuki, Bajaj Auto [ Get Quote ], Hero Motocorp and Mahindra & Mahindra.

FMCG shares were down on concerns that lower agri output in the wake on deficient rainfall would lead to higher input costs. ITC ended down 1.7 per cent at Rs 254 while Hindustan Unilever slipped 1.1 per cent to end at Rs 441.

In the banking segment, ICICI Bank [ Get Quote ] ended down 0.6 per cent while HDFC Bank [ Get Quote ] slipped 0.2 per cent.

Among Oil & Gas shares index heavyweight Reliance Industries [ Get Quote ] ended down 1.9 per cent after the Oil Ministry decided to cancel permits issued to billionaire Mukesh Ambani's privately owned RGTIL to lay four natural gas pipelines saying there were inordinate delays in construction of the 2,175-km lines. ONGC [ Get Quote ] ended down 0.6 per cent at Rs 278.

Further, Infosys [ Get Quote ] which was up over 1 per cent in early trades pared most of the gains to end with marginal gains ahead of its quarterly numbers due tomorrow.

The board of the company is likely to announce share buyback plan in tomorrow's board meeting. TCS [ Get Quote ] which was among the top gainers in early trades ended down 0.2 per cent. The software major will also announce its results on July 12.

Among other shares, Financial Technologies (India) and Multi Commodity Exchange of India Ltd (MCX), the promoters of MCX Stock Exchange (MCX-SX), were in action after MCX-SX got the nod from market regulator, Securities and Exchange Board of India (Sebi), to start operations as a full-fledged stock exchange.

Financial Technologies ended up 3 per cent while MCX ended down 2.5 per cent after rising nearly 8 per cent in early trades.

Strides Arcolab [ Get Quote ] ended higher by 1.5 per cent at Rs 748 after the pharmaceutical company said that Agila Specialties Pharma Corporation, its injectable drug division, has formed a joint venture (JV) with a Canadian generic drug firm to introduce a variety of quality injectable generic drugs in Canada.

Castrol India [ Get Quote ] has gained 1.5 per cent to end at Rs 549 after the company announced that its board will consider issue of bonus shares.

The broader market also ended marginally lower. The BSE Mid-cap index ended down 0.1 per cent while Small-cap index closed 0.2 per cent lower.

Market breadth on the BSE was also weak with 1,617 losers and 1,211 gainers.