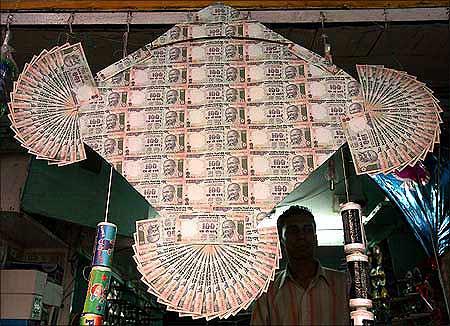 India must take urgent measures like issuing sovereign guaranteed bonds and exempting FIIs from short term capital gains tax to stem the rupee's slide, India Inc said.

"Consideration has to be given to issuing a sovereign guaranteed bond which would be of a substantial amount. Additionally, we need to explore if FIIs can be exempt from short term capital gains tax," CII President Kris Gopalakrishnan said.

President of PHD Chamber of Commerce and industry Suman Jyoti Khaitan said issuing of sovereign guaranteed bonds was a good short term measure.
"While the government and the RBI have been taking measures to curb speculation, more needs to be done on this front to remove the avoidable edge to volatility," CII said.
Stressing that foreign institutional investors (FIIs) must be reassured through appropriate action by the government, corporate India said the solution lies in correcting the current account deficit (CAD) by building a robust exports sector and strong domestic manufacturing base.
"You have to increase supply by investment in capital goods sector. Moreover, export sector must be given a boost to reduce the CAD," Khaitan said.
Besides, the industry believes the government must refrain from announcing any measures that can be viewed as "unfriendly for business".
"Foreign investments in the retail sector can be brought in through the creation of a Real Estate Investment Trust. We also need to ensure that no part of the government announces any measures, which would be viewed as business unfriendly," Gopalakrishnan said.
Meanwhile, industry body Assocham suggested that India convene an urgent meeting to engage policy makers from other emerging market economies (EMEs) to tackle the impact of US Federal Reserve's actions on the rupee.
"Finance Minister P Chidambaram should speak to his counterparts in the rest of the EMEs like Brazil, South Africa, China, Russia, Indonesia and Turkey and seek an immediate meeting. We cannot afford to watch the situation helplessly and allow the Fed Reserve and hordes of FIIs wreck havoc with our economies," Assocham said.
The rupee hit a new intra-day record low of 68.75 per dollar today amid a firm global trend, even as gold scaled to a new peak of Rs 34,500 per ten gram in the bullion market, surpassing all previous records.
The rupee has witnessed an unprecedented erosion in its value in the recent past, losing more than 19 per cent against the US Dollar since the beginning of the financial year, accompanied by sharp volatility.