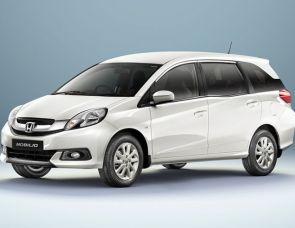 As part of its plans to sell over 9,000 units during the current financial year, automaker Honda Cars India would consider exporting its latest mid-size multi purpose vehicle Mobilio to South Africa, a top company official said on Thursday.
The Japanese carmaker had shipped about 6,000 units in the last financial year, Honda Cars India Senior Vice-President (Sales and Marketing), Jnaneswar Sen said.
"We are considering exports of Mobilio to South Africa. Last year, we made exports of 6,000 units. This year we have a target of 9,000 units", Sen told reporters here after launching Mobilio in the region.
The petrol variant of Mobilio is priced between Rs 6.80,000 and Rs 9,06000 (ex-showroom Chennai), while the diesel variant ranges from Rs 8.29,000 to Rs 10.17,000 (ex-showroom Chennai).
An exclusive sporty version -- RS diesel variant -- is priced at Rs 11.39,000 (ex-showroom Chennai).
Elaborating on exports, he said they were already shipping products -- premium hatchback Brio, compact sedan Amaze and premium sedan City -- to markets like South Africa and Nepal. Replying to a query on when the company was looking at shipping Mobilio to overseas markets, Honda Cars India Senior Vice-President (Sales and Marketing), Shigeru Yamazaki said "this year".
"Our subsidiary Honda South Africa is already present there and has been looking after our exports like Brio, Amaze," Yamazaki said.
On bookings made for Mobilio since its national launch early this month, Sen said the company has got 9,000 bookings.
Honda Cars India manufactures Brio, Amaze, and City at its facility in Greater Noida, which has a capacity of 1.20 lakh units, operating in two shifts.
While Mobilio is also manufactured at the Greater Noida facility, Sen said depending on demand the company would look at shifting manufacturing to its facility in Rajasthan, which has an installed capacity of 1.20 lakh units.
The company also plans to expand the number of dealers from the present 179 to 230 by the end of the current fiscal, focusing more on small towns and cities, he added.