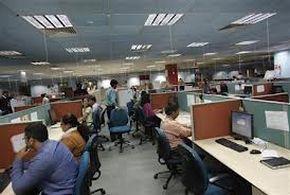 The job market is consistently showing signs of improvement with hiring activity in April this year witnessing a 7 per cent increase over the previous month and a 14 per cent rise over April 2013, says a report by job portal Naukri.com.

The Naukri Job Speak Index for the month of April 2014 stood at 1,589, showing 7 per cent increase in hiring activity, when compared to March this year.

Year-on-year comparison shows a 14 per cent increase in hiring activity when compared to April 2013, the report said.

"The job market continues to get better every month.

"Post elections the recovery could become more broad based if we get a stable government," said Hitesh Oberoi, Managing Director and CEO Info Edge (India) Ltd.

Industry wise, hiring sentiment was buoyant across all the major sectors.

Telecom sector saw the index moving up by 19 per cent month-on-month. BPO and pharma sector have done well with the index moving up by 14 per cent and 11 per cent in April this year over the previous month.

Banking-financial sector and auto have registered rises with the indices moving up 4 per cent and 6 per cent M-O-M respectively in the same period.

Sectors like construction and engineering and IT have also seen growth.

In terms of decline, oil and gas is the only sector which has seen a downward trajectory with the Naukri Job Speak Index down by 7 per cent in April 2014 over March.

Among cities, Delhi and Mumbai have taken the lead in April with highest and second highest growth in Naukri Job Speak Index.

Pune has seen growth with the Naukri Job Speak Index moving up by 8 per cent in April'14 over March'14. Hyderabad and Kolkata have seen slight growth.

Cities like Bengaluru and Chennai, however, have seen no change in hiring.

The demand for professionals working in banking and insurance sector saw the maximum growth with the Naukri Job Speak Index moving up by 16 per cent in April over March.

Professionals employed in BPO and HR/administration also saw growth.

Sales and Marketing professionals also saw spurt in demand.

However, those working in project management and maintenance saw a dip with the index moving down by 5 per cent and 4 per cent each respectively.
The image is used for representational purpose only