Driven by rising prices of food items such as sugar, pulses and vegetables as well as clothing, retail inflation moved closer to the double digit mark at 9.75 per cent in October.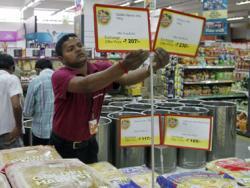 It was 9.73 per cent in the previous month, according to the Consumer Price Index (CPI) data released on Monday.

The highest rise in prices during the month was recorded by sugar, up 19.61 per cent, year-on-year basis. It was followed by edible oil, which turned expensive by 17.92 per cent, while pulses were dearer by 14.89 per cent on the annual basis.

Vegetable rates during month increased by 10.74 per cent, while meat and fish and egg rates rose by 12.18 per cent.

At the same time, clothing and footwear also witnessed an increase in prices at 10.47 per cent on an annual basis.

In urban areas, retail inflation moderated to 9.46 per cent in October, compared to 9.72 per cent in the previous month. However, CPI rose for rural population to 9.98 per cent during the month from 9.79 per cent in
the previous month.
"All India provisional General (all groups) CPI numbers of October 2012 for rural, urban and combined are 126.7, 122.6 and 124.9 respectively," said Minister of State for Statistics and Programme Implementation (Independent charge) Srikant Kumar Jena.
Concerned over the persistent inflation, the Reserve Bank last month kept its benchmark interest rate unchanged.
However, RBI had reduced cash reserve ratio by 0.25 per cent to infuse additional liquidity, injecting Rs 17,500 crore (Rs 175 billion) into the financial system.
Accordingly, the CRR or the portion of deposits banks have to park with the RBI now stands at 4.25 per cent, while the repo rate, at which RBI lends to the system, has been retained at 8 per cent.
The reverse repo, at which RBI absorbs excess liquidity through borrowings from banks, remains at 7 per cent.
Meanwhile, industrial growth has slipped in the negative territory at 0.4 per cent in September, compared to a growth of 2.5 per cent in the same month last year, which indicates persistent sluggishness in the economy.