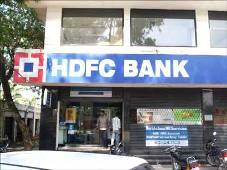 HDFC on Wednesday reported an 18.6 per cent rise in net income to Rs 1,002 crore (Rs 10.02 billion) over the year ago period on the back of a healthy growth in advances.

"Our net profit rose to Rs 1,001.9 crore (Rs 10.01 billion) for the June quarter compared to Rs 844.53 crore (Rs 8.44 billion) in the year-ago period.

Total income increased to Rs 4,942.31 crore (Rs 49.42 billion) from Rs 3,821.6 crore during the year ago quarter," HDFC [ Get Quote ] chairman Deepak S Parekh told the shareholders at the annual general meeting in Mumbai [ Images ] on Wednesday afternoon.

Parekh said, "The loan book grew to Rs 1.48 trillion during the quarter up from Rs 1.24 trillion.

"This is excluding the loans sold to sister concern HDFC Bank during the preceding 12 months period worth Rs 4,978 crore (Rs 49.78 billion)."

Net interest income of the pure-play mortgage lender jumped to Rs 1,372.55 crore (Rs 13.72 billion) from Rs 1,170.86 crore (Rs 11.7 billion), while its tax liability rose to Rs 378 crore (Rs 3.78 billion) from Rs 331 crore (Rs 3.31 billion) during the quarter.

Income from operations rose to Rs 4,914.71 crore (Rs 49.14 billion) during the reporting quarter up from Rs 3,800.67 crore (Rs 38 billion) in the year ago quarter.