With the Petroleum Ministry opposing disinvestment of IOC in the market, government is exploring the option of selling its shares to other oil PSUs like ONGC and OIL.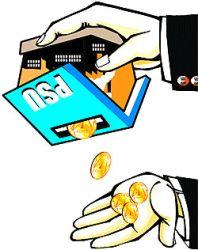 "What is being examined is if ONGC and OIL can buy the (government) stake in IOC," Oil Secretary Vivek Rae told reporters.

The Oil Ministry, he said, has "concerns" over Indian Oil Corp (IOC) shares being sold at current trading rates.

An Empowered Group of Ministers, headed by Finance Minister P Chidambaram, will meet this week to look at alternatives to meet the disinvestment target.

"The Finance Ministry says give us Rs 4,600 crore (Rs 46 billion) either by way of disinvestment, cross-holding or special dividend. They have no particular objection to IOC shares being bought by ONGC or OIL," he said.

Under the proposal, the government shares in IOC will be sold to Oil and Natural Gas Corp (ONGC) and Oil India (OIL).

The government in the past too had resorted to the cross-holding route to shore up its revenues.

In late 1990s, the government had sold its shares in Oil and Natural Gas Corporation (ONGC), GAIL and Indian Oil Corp (IOC) to raise Rs 4,643 crore (Rs 46.43 billion).

According to the cross-holding plan, ONGC bought 9.11 per cent in IOC and 4.83 per cent in GAIL. IOC bought 9.61 per cent in ONGC and 4.83
per cent in GAIL. GAIL in turn bought 2.4 per cent in ONGC.
In 2006, IOC sold 1.92 per cent, or a fifth of its holdings in ONGC for Rs 3,672 crore (Rs 36.72 billion), recovering its entire initial investment and some more. It also sold half its holdings (2.41 per cent) in GAIL for Rs 561 crore (Rs 5.61 billion).
The EGoM on January 9 deferred disinvestment of 10 per cent stake in IOC through an offer for sale on the stock markets owing to strong opposition from oil ministry.
The ministry felt IOC shares, which on Friday closed at Rs 200.35, were way below the intrinsic value. The Friday closing was way lower than the 52-week peak of Rs 375 reached on January 18 last year.
At Friday's closing price, IOC has market capitalisation of Rs 48,644 crore (Rs 486.44 billion). This m-cap is after factoring in IOC's 7.69 per cent holding in ONGC worth about Rs 18,000 crore (Rs 180 billion).
That leaves about Rs 30,000 crore (Rs 300 billion) market value that is attributable to IOC. This is less than the investment that IOC is putting in setting up a 15 million tonne refinery at Paradip in Odisha, according to the oil ministry.
The Finance Ministry had planned to sell 19.16 crore IOC shares to meet a tenth of its Rs 40,000 crore disinvestment target for the current fiscal. The government holds 78.92 per cent stake in the country's largest oil refiner as on June 30.