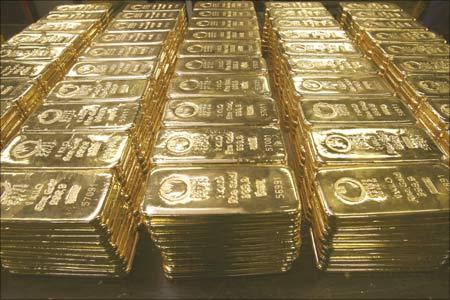 Gold extended its slump for the second day and shed another ₹ 350 to hit a six-month low of ₹ 29,000 per 10 grams in the bullion market today amid weakening global trend and considerable fall in demand from jewellers at the domestic spot market.
Silver went below the ₹ 41,000-mark, tumbling by ₹ 735 to ₹ 40,700 per kg on reduced offtake by industrial units and coin makers.
Traders said sentiment was downbeat, largely in keeping with a weak global trend as the dollar surged to its highest in at least a decade against a basket of currencies on strong economic data and signs that the US Fed was inching towards increasing rates, eroded the metals' appeal as safe haven assets.
Globally, gold fell 1.25 per cent to USD 1,173 an ounce in New York on Wednesday. Silver too dropped by 0.81 per cent to USD 16.48 an ounce.
A falling demand from jewellers and retailers in the domestic bullion market due to paucity of funds too weighed on sentiments, traders said.
The government on November 8 had scrapped ₹ 500 and ₹ 1,000 rupee notes to crack down on black money, leading to a cash crunch.
"Buying activity remained at a low ebb even at prevailing levels", said Rakesh Anand, a Delhi-based jeweller.
In the national capital, gold of 99.9 per cent and 99.5 per cent purity slumped by ₹ 350 each to ₹ 29,000 and ₹ 28,850 per 10 grams, respectively -- a level last seen on June 1. The precious metal had lost ₹ 100 in Wednesday's trade.
Sovereign traded lower by ₹ 50 at ₹ 24,350 per piece of eight grams.
Tracking gold, silver ready dropped by ₹ 735 to ₹ 40,700 per kg and weekly-based delivery by ₹ 835 to ₹ 40,000 per kg.
On the other hand, silver coins held steady at ₹ 74,000 for buying and ₹ 75,000 for selling of 100 pieces in scattered deals.