Govt clamps have resulted in 93% decline in April-November

Gold jewellery import declined 93 per cent in the first eight months of the current financial year, following the government's decision to curb import of the yellow metal to bring the current account deficit (CAD) under control.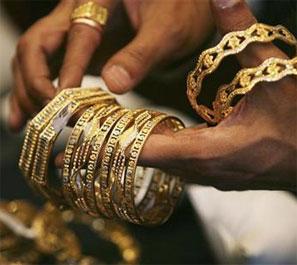 Data compiled by the Gems & Jewellery Export Promotion Council showed gold jewellery import fell to a negligible Rs 1,521 crore between April and November, as compared to a staggering Rs 22,989 crore in the corresponding period last year.

There are two primary reasons. The government clamped on jewellery traders taking benefit of the free trade agreement FTA signed between Thailand and India. Under this, import duty on gold jewellery was reduced to one per cent, as against 10 per cent otherwise.
While , the government made 20 per cent value addition mandatory in Thailand, traders bypassed this by having all gold ornaments originating elsewhere, either China or some other major manufacturer, and then routing these through Thailand.

"Maximum import of jewellery took place during the period when import duty was inverted, with one per cent duty on finished products, mainly from Thailand, and four per cent on raw material. For survival of the gold jewellery manufacturing industry, the duty differential should be a minimum 10 per cent, as in the case of other countries, including China," said Haresh Soni, chairman, All India Gems and Jewellery Trade Federation.

"Rising imports of finished products pushed the domestic manufacturing industry into the doldrums. Increasing import of gold jewellery from Thailand was the biggest threat for Indian artisans, rendered jobless because of shrinking manufacturing activities in India," said Pankaj Parekh, vice-chairman.

The government introduced a 20:80 formula for gold import; at least 20 per cent of the imported quantity of gold should be supplied to jewellery exporters. Since gold supplies to exporters did not offer the six to eight per cent margins as for supplies to domestic players, importers reduced the gold import business. This resulted in a huge shrinkage in gold supply to domestic entities. As a consequence, gold is currently selling at a seven to eight per cent premium in India over its imported price.

"The government raised import duty to 10 per cent in June-July this year from less than one per cent 18 months ago. The government action helped control the CAD, which hit an alarmingly high 5.5 per cent of GDP early this year and has now declined to 3.1 per cent," said an industry veteran.

To curb gold jewellery import, the government raised import duty on ornaments to 15 per cent from the earlier 10 per cent across the board.

However, with a seven to eight per cent premium and 10 per cent import duty, gold is available currently at 17-18 per cent higher than its price in the global market. In comparison, jewellery can be imported at straight premiums of 15 per cent. "Therefore, import of gold jewellery still works out cheaper," said Parekh.

Soni believes for the industry to survive, the priority is to reduce the import duty on raw material, which will result in a reduction in smuggling and narrowing of the premium on gold in India.