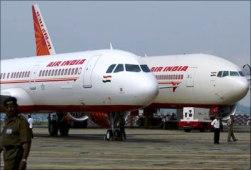 Two former senior Air India executives are in a war of words, trading charges of ineptitude and mismanagement.

The trigger for the controversy is AI's former executive director Jitender Bhargava's recently published book, which blames ex-chairman V Thulasidas for the carrier's steep decline.

On Tuesday, Thulasidas hit back at the charges against him in a newspaper article and justified the decisions in his tenure, including the airline's decision to order 68 planes.

"I was not part of the committee that recommended 68 aircraft but I fully supported that expansion, since it made sense considering the rapid expansion of air traffic compared to the 1990s," Thulasidas said in his article.

He also said other domestic airlines such as IndiGo placed an order for 100 Airbus planes before launch and so, it was not unusual for airlines to place large orders.

"Second, the proposal to acquire 68 aircraft was sent to the government, the Central Vigilance Commission and the Comptroller and Auditor General (CAG) in 2005.

If anyone felt strongly against this acquisition, they could have objected. No one objected then; the proposal was approved."

Bhargava blames Thulasidas' tenure and an alleged series of wrong decisions during the latter's 2003-08 tenure for the current
state of affairs in the airline.
"AI was on a downward trajectory from earlier, but the steep decline happened 2005 onwards.
"The fleet of Boeing 747s was refurbished at a huge cost and then, the planes themselves were withdrawn from the fleet.
"The Airbus A310s were converted into freighters and that caused a loss. Who was responsible for the loss?" he asked.
Bhargava said Thulasidas couldn't absolve himself from the decisions taken during this period.
"Was it not the duty of the chairman and the board to see if the airline could afford or gainfully deploy the large number of aircraft that the committee had recommended for acquisition? Thulasidas is trying to pin the blame for the current financial mess on the (aircraft acquisition) committee rather than take the blame himself."
Bhargava said the CAG, as a matter of practice, audited a decision after it had been taken. "It is always a post-audit and not a pre-audit," he said.
He also denied claims made by Thulasidas of his own "inadequate performance" and being a silent spectator to happenings in the airline.
Bhargava also feels AI should oppose the Tata-Singapore Airline plan to set up a hub in Delhi.
"In the West and the US in particular, airlines have different hubs and this could be implemented in India. Air India should oppose the Tata-SIA plans to develop a Delhi hub as it will harm the national airline," he said.