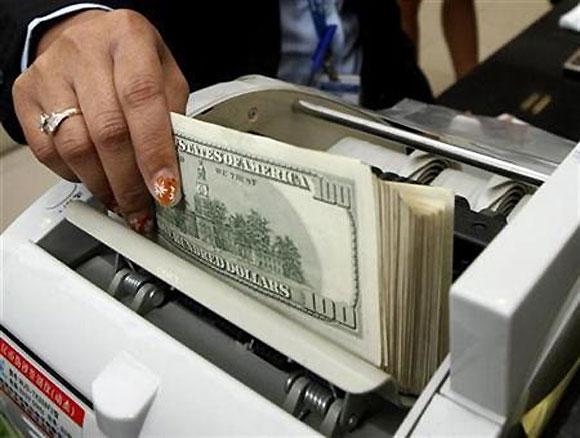 The country's foreign exchange reserves fell $274 million to $312 billion for the week ended May 30, show RBI data released on Friday. Foreign currency assets, a key component of reserves, fell $269 million to $285 billion.
Gold reserves remained unchanged during the week. For the week under review, the Special Drawing Rights (SDRs) fell $3.3 million to $4.45 billion, while the country's reserve position with the International Monetary Fund was down $1.2 million to $1.68 billion.
Meanwhile, the rupee rose the most in two week as the European Central Bank (ECB) cut its benchmark interest rates to unprecedented lows.
This resulted in hopes it will create demand for emerging market assets like India.
The rupee ended at 59.18 compared with previous close of 59.33 to the dollar.
The currency had opened at 59.19 and during intra-day trades touched a high of 59.11.
"Foreign banks were selling dollars due to which the rupee appreciated. By RBI was present in the market to mop up that supply due to which the appreciation was limited," said Sandeep Gonsalves, forex consultant and dealer, Mecklai & Mecklai. According to Gonsalves next week the rupee may trade in the range of Rs 59-59.50 with an appreciation bias.