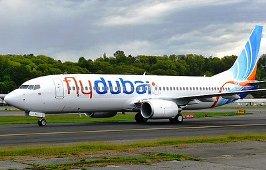 Low cost airline 'flydubai' will start its flights from Dubai to three Indian cities, including Delhi, from next month, doubling the number of its destinations in India.
Flydubai will start flights to Thiruvanthapuram, Kochi and Delhi from Dubai, taking the number of its services to six Indian cities, airline Chief Executive Officer Gaithal Gaith said on Monday.
From June 1, the airline will start a four times a week service linking Delhi and Dubai, while three times a week service linking Thiruvanthapuram and Dubai will start on the following day.
From June 3, the airline will also add Kochi to its route network offering a three times a week flight from Dubai.
Flydubai's expansion comes at a time when IndiGo has cut back on its Dubai flights because of runway issues at DubaiAirport.
The start of the three new services will see a doubling in the number of cities in India to which the airline flies as it currently operates nine weekly flights to Lucknow, Hyderabad and Ahmedabad from Dubai;
The announcement of the new flights comes in the backdrop of India and Dubai recently signing a bilateral air services agreement which saw an increase in the number of flights that airlines from each country can operate on a weekly basis.
Emirates and flydubai are the two airlines from Dubai which are allowed by the Dubai Government to operate flights to and from India while Jet, IndiGo, SpiceJet and Air India operate from India to Dubai.