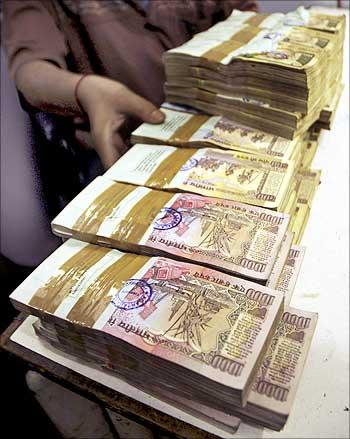 Fiscal deficit in the first seven months of 2012-13 stood at 71.6 per cent of the Budget Estimates (BE), slightly better than 74.4 per cent in the same period a year ago, according to Controller General of Accounts (CGA) data released on Friday.
The slight improvement in fiscal deficit position is mainly on account of some tightening on the expenditure front.
In absolute terms, the fiscal deficit -- gap between expenditure and revenue collection -- was Rs 3.67 lakh crore during April-October period of the current fiscal.
Meanwhile, the government has raised the fiscal deficit target for the current fiscal to 5.3 per cent from the Budget Estimates of 5.1 per cent of the GDP.
The fiscal deficit was 5.8 per cent of GDP in 2011-12. The high fuel, fertiliser and food subsidy outgo is one of the major reasons for the ballooning fiscal deficit.
Replying to a question in the Lok Sabha, Finance Minister P Chidambaram today said the government has imposed measures like rationalisation of expenditure and optimisation of available resources with a view to improve fiscal deficit condition in the current year.
This includes 10 per cent mandatory cut on non-plan expenditure in the current year, ban on holding of meetings and conferences at five star hotels, ban on creation of plan and non-plan posts and restrictions on foreign travel, he said.
The government also endeavours to restrict the expenditure on central subsidies, he added.
The above steps and measures are expected to reduce the government expenditure under the designated items of expenditure except under the obligatory expenditure like interest payment, repayment of debt, salaries and the Finance Commission grants to the state governments, Chidambaram said.
The total expenditure of the government declined marginally to 52.3 per cent as against 54.1 per cent in the year-ago period.
However, the government's revenue collection slipped to 43.2 per cent in the said period compared to 45.5 per cent in the corresponding period last year.
According to the data, the net tax collections at the end of October, 2012 stood at Rs 3,33,883 crore. The CGA data also said revenue deficit during the period was Rs 2,85,252 crore or 81.4 per cent of the budget estimates.