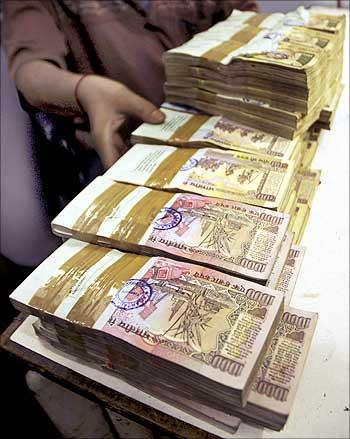 Continuing its upward rally for the third straight session, the rupee on Friday rose by a whopping 58 paise to hit over three-week high of 54.26 against the US dollar on the back of a sharp rally in the local equities.
Forex dealers said sustained dollar selling by exporters on hopes of further fall in value of the American currency overseas also supported the rupee's rise.
The domestic currency moved in the range of 54.26-54.84 at the Interbank Foreign Exchange (Forex) market.
Later, it settled at day's high of 54.26, showing a rise of 58 paise, or 1.06 per cent, against its previous close.
In the last three sessions, rupee has gained 147 paise, or 2.64 per cent.
Meanwhile, the BSE benchmark Sensex today spurted by almost 169 points today to 19,339.39 on strong capital inflows. Foreign Institutional Investors (FIIs) pumped in a whopping Rs 1,611.43 crore (around $300 million), according to provisional data on bourses.
"The rupee continued to extend gains on rising foreign capital inflows amid risk sentiment in global markets. The positive tone in the domestic equity markets which rose for fresh highs on FII buying and ease in the political logjam aided the INR," Alpari Financial Services (India) CEO Pramit Brahmbhatt said.
The dollar index was down by 0.07 per cent against a basket of six major currencies.
"The rupee appreciation was mainly based on the rally in the global equity markets. The euro rose to 1.30 levels, while Dollar Index was trading weak for the day," said Abhishek Goenka, Founder and CEO, India Forex Advisors.
"Weak GDP data raised hopes of some monetary easing at the next RBI meeting on December 18th. The IIP and WPI figures due next month on 12th and 14th Dec will provide further clues on rate cut in the monetary policy review," he added.
The premium for the forward dollar closed slightly better on stray payments from banks and corporates.
The benchmark six-month forward dollar premium payable in May edged up to 165-167 paise from Thursday's close of 164-166 paise and far-forward contracts maturing in November inched up to 309-311 paise from 308-310 paise.
The RBI has fixed the reference rate for the US dollar at 54.5265 and for euro at 70.8880.
The rupee remained firm against the pound sterling to end at 87.09 from overnight close of 87.85 and also improved further against the euro to 70.62 from 71.24.
It hardened against the Japanese yen to 65.63 per 100 yen from previous close of 66.81.