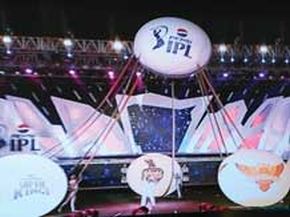 Advertisers are jumping on to the Indian Premier League (IPL) bandwagon. Perfetti Van Melle, Havells and Amazon have been brought as on-air associate sponsors by Multi Screen Media (MSM), official broadcaster of the cricket tournament.
Vodafone will be the co-presenting sponsor, along with Pepsi.
The tournament will be broadcast on SET Max and Sony Six from April 16. Rohit Gupta, president, MSM, confirmed the names, saying some more advertisers were expected to come on board as associate sponsors.
Typically, there are eight or nine on-air associate sponsors for the IPL; three have been announced. Perons persons in the know said the broadcaster was talking to Samsung, Karbonn, Micromax and Panasonic.
All the four have associated with IPL as on-air sponsors in the past and understand its strengths, the sources said.
Last year's on-air associate sponsors: Karbonn Tabs, Usha International, Godrej, Panasonic, Havells, Cadbury-Kraft, Samsung Mobiles and Tata DoCoMo
This year's on-air associate sponsors: Perfetti Van Melle (brand Centerfruit will be visible on air), Amazon and Havells. More names to be announced shortly
Vijay Narayanan, head of marketing, Havells India, said the property was a strong one and it made good sense to be a part of it. "We have been an on-air associate sponsor of the IPL for six years. The property has given us the necessary visibility in the past and we felt we should continue our association with it."
Sponsorship rates for each 10-second spot are around Rs 4 lakh, said media planners who are part of the negotiations for advertisers. Spot buyers would have to pay nearly Rs 1 lakh more, with rates pegged at Rs 4.75-5 lakh for 10 seconds.
This year's venue changes will not impact match timings, with telecast set to happen at 8 pm through the tournament.
Gupta of MSM says this has given much relief to advertisers, worried that viewership would drop during the first leg of the tournament.
Twenty matches are scheduled to happen in the United Arab Emirates, with the other 40 to be held in India.
Besides consumer goods, some of the other categories expected to be prominently highlighted this year on IPL are telecom, automobiles, mobile handsets, consumer electronics and e-commerce. Gupta says this is the first time e-commerce companies have shown such a high level of interest in IPL.
Amazon is the first e-tailer to come on board as an associate sponsor. Manish Kalra, head, integrated marketing, Amazon India, says: "Our target customers around the country would be watching IPL with interest.
We want to engage with this audience; hence, our association with IPL." Amazon, looking to take on competitors such as Flipkart, is expected to break its television campaign during IPL. Its print campaign was launched last week in key newspapers.
Besides on-air ads, co-presenting sponsors Vodafone and Pepsi, also the on-ground and title sponsors, respectively, are set to launch mega campaigns encompassing online and offline media.
Ronita Mitra, senior vice-president, brand communications and insights, Vodafone India, says, "Our association with IPL has always been rewarding in terms of reach and we propose to leverage the property this year, too, to drive brand-consumer connect."
A PepsiCo spokesperson said, "Our plans for IPL this season will be focused on exploding the equity and connect for Brand Pepsi in season.
Deals include merchandise, tickets, fan experiences in the Pepsi VIP box and special edition packaging, besides visibility on ground. We will also use our exclusive pouring partnerships with the franchisee teams to not only refresh fans but also sample new products across our food and beverage range."
AD KITTY
Ad revenues in 2013: Rs 750-800 crore (Rs 7.50-8 billion)
Expected ad revenues in 2014: Rs 900 crore ( Rs 9 billion)