The Reserve Bank expects inflation to moderate further in the next 2-3 months that may lead to cut in interest rates by the Central Bank, RBI Deputy Governor K C Chakrabarty said on Thursday.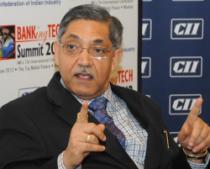 "We are trying to bring down inflation ... There is a probability that inflation would come down in the next few months. In the next 2-3 months inflation should come down," he said after inaugurating a rural branch of ICICI Bank in Khatwa.

Asked if there is a possibility of RBI reducing the policy rates in its mid-quarter policy review on December 18, Chakrabarty said repo rate will come down when inflation comes down.

He said the WPI inflation has come down from 10 per cent.

Wholesale price index based inflation for October moderated to 7.45 per cent from 7.81
per cent in the previous month.
Stressing that high inflation is inimical to growth, the Deputy Governor said: "People are saying because of high interest rate, growth is coming down. What we are saying is the interest rate is high because inflation is high."
That's why RBI's first concern is to bring down inflation, he said, adding, "unless inflation comes down interest rate cannot come down".
In its last policy review in October, RBI had left repo rate unchanged. However, it reduced Cash Reserve Ratio (CRR) by 0.25 per cent leading to injection of additional liquidity of Rs 17,500 crore (Rs 175 billion) into the banking system.
Image:
K C Chakrabarty