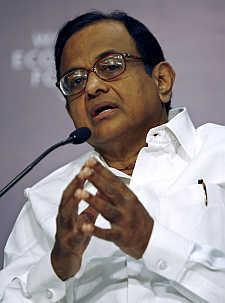 Finance Minister P Chidambaram, obviously exasperated by the complaints he's heard from US business and industry leaders over the past two days in New York and Washington, DC, made use of his keynote address at the US-India Business Council's 38th anniversary leadership conference, speaking slowly and deliberately to counter America Inc's angst point by point and turn the tables by highlighting cracks in US policies on several fronts.

Addressing a sold-out audience of over 350 representatives of American corporate and industry heavyweights and several Obama administration officials and US lawmakers, Chidambaram said all he had heard since he came to the US seeking US foreign direct investment, was "the lament about the last two years."

He said: "The last two years have been bad for everyone - the last two years have been bad for every country of the world. Growth has dipped, the eurozone crisis has made matters worse and the World Economic Outlook update of a couple of days ago does not offer a very bright prospect for the rest of 2013 either."

Chidambaram said: "During this period, between the United States and India, we did take a number of measures to strengthen the relations, but in a period of low growth and in a period of recession, I am not surprised that we seek to emphasise not the positives but the negatives."

"Much of what I've heard over the last couple of days is because businesses are facing challenges, and we tend to blame each other for the challenges that we face, rather than find ways to overcome these challenges," he said.

Chidambaram then went on to enumerate a laundry list of accomplishments, starting off by noting that two-way trade between India and the US was over $100 billion, unimaginable a couple of decades ago and well beyond "the reach of India that had a closed economy."

"Today, $100 billion seems far below our potential and we have the capacity to raise it several fold," he said, and added, "Two-way investments between India and the US have crossed $30 billion."

But, "Yet, there are huge opportunities for US companies to invest in India and good opportunities for Indian companies to invest in the US," he added.

Chidambaram said: "In the last two days, I've heard that there is a sense of angst among US business about recent developments, much of it because the economies are growing at a slow pace."

"If India was growing at over 8 per cent and if the US was growing at 3 per cent, much of this angst will disappear," he quipped.

Chidambaram then went on to fault the US on issues India found it wanting apparently in an effort to vent his frustration over the drum-beat of complaints he had been pounded with since his arrival in New York in his second trip to the US in less than three months.

Taking on immigration, he said, "To the best of my understanding, in no language, in no dictionary, is immigration defined as including temporary relocating of knowledge workers. Immigration means a desire to migrate into a country and live in that country and become a citizen of that country."

"Yet, the immigration bill (that recently was approved by the US Senate and is now being taken up by the US House of Representatives) has a clause which seem to erect non-tariff barriers on temporary relocation of knowledge workers."

Chidambaram also said, he had "heard concerns about intellectual property," but argued that "facts are sacred. I know that there is concern that India granted a compulsory license to one drug."

But he asserted, "In all these years, in the 66-67 years we've been independent, India's granted one compulsory license - just one. The developed world has granted 50 compulsory licenses. Canada has granted four, Italy four, Malaysia, Indonesia, and the United States
has granted one compulsory license."
Chidambaram said there was also "concern about denial of a patent. True, but that's done according to a law that's WTO compliant. It's a classic judgment that affirms Indian law respects intellectual property - a judgement that requires a drug has patent protection but what is presented as an innovation, or improvement or adding new efficacies of a drug does not get in patent protection of Section 3 of the Act."
He attributed these concerns "because US companies, long established and strong, big, and with huge resources, are designed to be present all over the world and are present in India…"
"Today, Indian companies, many of them start-ups 20 years ago, have now grown in size, grown in stature, grown in capacity, and they work with US companies and sometimes compete with US companies."
Chidambaram said, "When businesses of two countries complete in the same market, there will be instances for business rivalry. Business competition is the foundation of a free market and a free economy."
"There will be occasions for business rivalry but a few cases of business rivalry ought not to be brought to the political table and converted into a political issue between two countries that have so much to contribute towards prosperity by working together."
Chidambaram, who met several US lawmakers earlier, said he had appealed to them and would also make the same plea to senior Obama administration officials whom he would meet during the US-India CEOs Forum "that our two countries have a great opportunity to work together not only for our mutual benefit but for the benefit of the whole world."
Then, in his concluding remarks, he waxed philosophical and very well could have been a Warren Buffet or a Bill Gates, exhorting philanthropists to subscribe to their giving pledge of distributing half of their wealth.
"The world cannot have prosperous countries and countries stricken with poverty," Chidambaram said, and recalled, "Our leaders have pledged that we must end poverty. One of your great leaders said, 'Poverty must become history'."
The finance minister said, "All of us gathered here are engaged in the greatest enterprise of man - to create wealth. When we first said this 20 years ago, we were mocked by many in India."
"The creation of wealth is the greatest challenge that mankind faces," and he argued that those who have created wealth "are those who have lifted millions out of poverty and given them a life of dignity and hope."
Chidambaram warned that "the world cannot be peaceful, the world cannot live in peace and harmony as long as there is poverty in many parts of the world, which is why we have free trade, which is why we advocate free trade, which is why we advocate dismantling of barriers, which is why we invented the WTO."
He declared, "India is the largest country in the world that faces the greatest challenge of poverty - China, by and large, overcame that challenge. India is still in the process of overcoming the challenge and we will do it."
Chidambaram said, businesses in the US and India, "have a great opportunity to achieve the common goal of ending poverty in the world… and in that process we seek cooperation, we seek to work with you."
Earlier, Commerce Minister Anand Sharma, who delivered the first keynote during the evening inaugural session in a marathon conference that stretched till nearly 10pm on July 11, called on the US to have trust in India and implored Washington not to give up on the Indian system, but work assiduously with New Delhi in establishing the defining partnership that President Obama spoke of when he visited India in 2010.
Sharma then went on to detail painstakingly the steps India has taken to alleviate US business and industry concerns, and reiterated, "What we can do together is very important for all of us."